In Sunset Beach by Mary Kay Andrews , Drue Campbell has great memories of Coquina Cottage in Sunset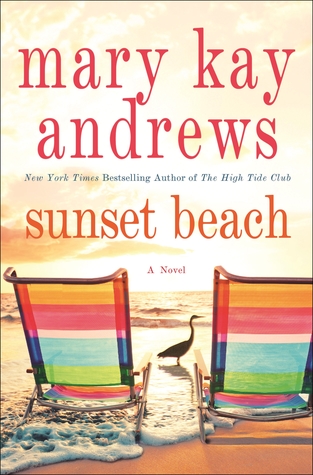 Beach, Florida, the small home her maternal grandparents built with their own hands decades ago. It should be the perfect place to heal after recently losing her mother to cancer, losing her waitressing job, her apartment, and recovering from a kiteboarding accident. Needless to say, Drue's life is a mess. And of course it's at one of the lowest points in her life when her absentee father reappears, with both the key to the cottage for her and a job offer at his personal injury law firm.
"I've got some weird oppositional thing going on with my father. I'm thirty-six years old, and as soon as he tells me I shouldn't do something–I go right out and do it anyway. It's nuts!"
Drue reluctantly accepts the job and becomes a "cube rat", which is what her coworkers laughingly call themselves. Being on the phones with people trying to get rich quick might not be her life's work, but it could be worse. It's the cases she can't help for that gets to Drue, though. One homicide case in particular tears her heart out to the point that she begins her own under-wraps investigation. As she spends her time trying to help a mother find justice for her daughter, Drue also becomes mired in the past with a case from the 1970s where a woman went missing locally. Only, she didn't realize the trouble she would create or the danger it would bring to her life by attempting to do the right thing.
"If you're gonna keep working at CCK, you're going to have to understand that bad shit happens to good people. Not just sometimes, but all the time. You have to stop taking this stuff so personally. Okay?"
"Okay." She smiled. "I'll try."
With two unrelated mysteries, one set in the past, one in the present, dysfunctional family drama, a snarky yet likable heroine, and even a touch of romance, Sunset Beach kept me flipping the pages even when I should have been sleeping/working/cleaning…well, you get the picture.
'For the first time since returning to Sunset Beach, she felt whole. She felt alive and glad to be where she was.'
I've always enjoyed Mary Kay Andrews' work. Her attention to detail and the multidimensional characters she creates nearly leap off the pages. Although Sunset Beach turned out to be even more than her typical women's fiction novel. The element of mystery was a fun addition and I thought really paired well with our heroine Drue's personality, which was quirky and inquisitive, as well as being a little quick to draw conclusions. But I loved that she had a heart of gold and truly wanted to do the right thing, something that Drue used to solve a missing persons case from the mid-70s and a fairly recent homicide. (Much to the chagrin of her father and her coworkers.)
The family issues between Drue and her father, Brice, were something that definitely affected their personal and working relationships. I think Brice did try in his own way to be a presence in Drue's life–finally!–and even though he was a habitual lady's man which annoyed his daughter to no end, he meant well overall, showing how much he cared about her. I did have to chuckle over the animosity between Drue and Brice's newest wife, Wendy. There was history there between the two women so things got a bit tense and snarky, which Andrews did a great job with their verbal "discussions".
I was actually quite shocked when we got into the details of the mystery from the 70s and with how many lies the case was steeped in–and that it took place back when Brice was on the police force. I didn't quite see ahead of time the way everything went down or how it ended. Same goes for the homicide Brice's law firm tried to investigate. There was a lot more going on than first met the eye, more people involved than I realized, and it almost got Drue killed in the process. I was honestly a bit bummed out that some of the people in the wrong were closer to Drue than she thought. But it made for a super exciting time, that's for sure.
The perfect novel to read at the beach or poolside, Sunset Beach will certainly keep readers on their toes with its great characters, a fast-moving plot, and plenty of laughs and intrigue. Who could ask for more, right?
Book Info:

Publication: Published May 7th 2019 | St. Martin's Press |
The New York Times bestselling author and Queen of the Beach Reads delivers her next summer blockbuster.
Drue Campbell's life and career have recently been derailed. The only thing she has left is the house her mother left her: a ramshackle beach bungalow with a missing roof in the once-sleepy town of Sunset Beach, which is rapidly becoming a hot spot for the rich and well-heeled, who are none too pleased about the shabby eyesore in their perfect neighborhood.
When Drue's larger-than-life father unexpectedly turns up at her mother's funeral and offers her a job at his law firm, Drue doesn't know whether to be grateful or resentful that he has suddenly reappeared. She grudgingly accepts the job sifting through cold callers and shysters looking to get rich quick. But when her attention is caught by a suspicious murder case, Drue finds herself entangled in a decades-old mystery – one that may have dire consequences for Drue and the people she loves.