Puppy Love by Lucy Gilmore is the first book in this author's Forever Home series. Three sisters have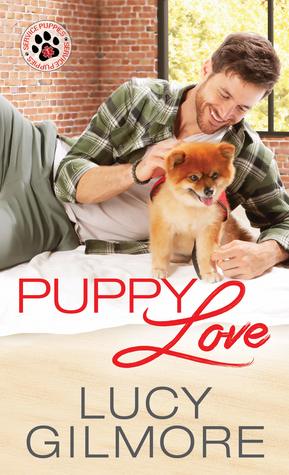 established a service puppy training school. The first book is a good start to the series. The author introduces and gives some background for all three sisters although emphasis is on the youngest sister, Sophie in this book.
Harrison Parks wakes up from a diabetic coma to the news his boss has decreed he must take on a service dog before returning to his wildlife firefighter job. No problem! Harrison has seen other service dogs, Golden Retrievers, German Shepards and the like. He arrives at Puppy Promise, the service dog training facility his boss has sent him to and meets Sophie Vasquez, one of the sisters who own the training facility. Zing! Both guy and gal find themselves attracted to each other. What Harrison isn't attracted to is the dog Sophie insists is the best match for him, a Pomeranian named Bubbles. Bubbles! She has got to be kidding. He has no choice though. He goes home with Bubbles and thus starts his new life.
The storyline flows smoothly and introduces the conflict and the the resolution well. I really enjoyed the interaction between Sophie and Harrison as their relationship developed. These two characters helped each other overcome issues from their past. Bubbles, the Pomeranian is just so super cute and definitely added lots of fun to the story. This is a romance which makes your heart feel good.
Book Info:

Publication: May 28th 2019 | Sourcebooks Casablanca | Service Puppies #1
A brand new series from debut author Lucy Gilmore, featuring service puppies who might just be matchmakers in the making…
Sophie Vasquez runs Puppy Promise, a service puppy training organization. Sophie's always been treated as the frail baby of the family—a thing she hates but doesn't know how to change. Until, that is, she meets her newest client.
Harrison Parks is a wildfire firefighter who isn't allowed back in the field unless he finds a service dog. Reluctantly, he agrees, never expecting to be assigned a skittish Pomeranian and the equally skittish woman who's supposed to wrangle them both into order. As it turns out, they all have something to prove…and more than enough room in their hearts for a little puppy love.