In Sunset in Central Park (From Manhattan with Love #2) by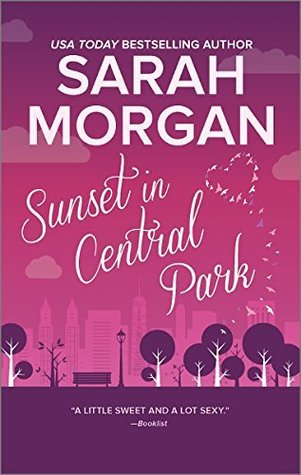 Sarah Morgan, Garden designer Frankie Cole avoids emotions and relationships at all costs. Thanks to the destructive mess her parents made with their divorce, she doesn't believe true love even exists. True friendship, well, that's a different story. Frankie loves her best friends Paige and Eva dearly and even Paige's brother Matt Walker. But then Matt suddenly throws her for a loop by expressing interest in a date. With her. How can that possibly be a good idea? She doesn't want to mess up their longtime friendship, but Frankie can't deny the spark of attraction between them. Is she truly willing to risk it all on something that's bound to fail?
'Up until this moment she'd had no real idea that Matt was interested in her, but now she knew that he was, it changed everything. It made the impossible possible and she found the possible terrifying.'
Matt has spent years strictly in the friend-zone when it comes to Frankie and he's been okay with that given her rocky childhood and subsequent trust issues. But he thinks the time is right to finally begin to let his true feelings be known and to slowly work their way up to a date. He knows he'll have to be patient and let Frankie figure out that she can still trust him and that dating doesn't mean they have to change who they are to each other. Matt is surprised to discover that there's a lot more to her trouble past than she had let on over the years. And he intends to prove to Frankie that what they have together is strong enough to withstand any issues they should face. As long as they're together.
"Sunset in Central Park," she murmured. "It doesn't get any more perfect."
They were standing side by side, close but not quite touching.
He wondered if she was as aware of him as he was of her.
And then she turned her head to look at him and he saw the heat of his own desire reflected in her eyes.
Sarah Morgan just keeps cranking out one amazing romance after another. Based around a friends-to-lovers trope, this particular story was as heartwarming as it was sensual, while still keeping that feeling of closeness and friendship this series has been built on.
I so enjoy reading anything by Sarah Morgan. She has a way of creating realistic characters who are completely likable, flaws and all, and who you can't help cheer on. And boy doesn't that describe Frankie the commitment-phobe. She was a fun character in some ways, with her comical Eeyore-like views on relationships, and a super loyal best friend to Eva and Paige. But Frankie had such a tough childhood after her parents split up that I could see why she thought no relationship, no matter how stable, would last. It took quite a lot to convince her otherwise, but Matt was just the guy to prove her wrong–in the best way possible.
Matt was a terrific book boyfriend. I seriously can't say enough nice things about him. He was loyal, genuine, caring, protective and was always willing to sweep in and save someone. Frankie included. I loved that Matt knew his feelings for her were real and that he was trying to find a way to slowly get her used to the idea of them dating, or 'nondating' as Frankie called it. His patience was truly wonderful while she worked through her issues from her past and I think that was what really endeared him to me. But once they finally got to the point where things were more physical? Watch out. Matt had a naughty side to him that was fun and oh so sexy.
Sunset in Central Park was a sweet, heartfelt romance filled to the brim with fun and witty conversations, incredible chemistry between our hero and heroine, and a close-knit group of friends who stood by each other for years. How can you not enjoy all of that?
Book Info:

Publication: August 30th, 2016 | HQN Books | From Manhattan with Love #2
In the chaos of New York, true love can be hard to find, even when it's been right under your nose all along…
Love has never been a priority for garden designer Frankie Cole. After witnessing the fallout of her parents' divorce, she's seen the devastation an overload of emotion can cause. The only man she feels comfortable with is her friend Matt—but that's strictly platonic. If only she found it easier to ignore the way he makes her heart race…
Matt Walker has loved Frankie for years but, sensing how fragile she is beneath her feisty exterior, has always played it cool. But then he uncovers new depths to the girl he's known forever and doesn't want to wait a moment longer. He knows Frankie has secrets and has buried them deep, but can Matt persuade her to trust him with her heart and kiss him under the Manhattan sunset?