For Better or Worse by Lauren Layne: Promotion to full-on wedding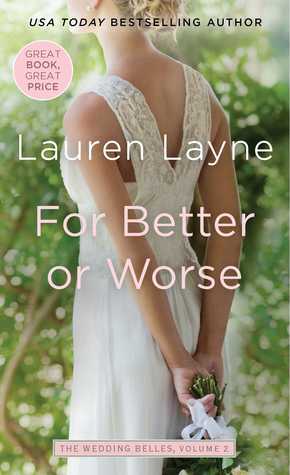 planner, beautifully decorated apartment in Manhattan, Heather's life plan is coming together. But what she never expected was an impossible bride or the next door neighbor who won't stop playing music late into the night.
While the bride makes her want to tear her hair out, her frustration with the neighbor, Josh, is of a much different kind. One where she can't get him out of her mind, and soon enough, she doesn't want to. In remission from cancer for several years, Josh had quit his job, lost his schedule, and decided to live life in the immediate moment. But it also means pushing people away in case his cancer comes back.
But as they embark on a non-relationship relationship, Josh and Heather can't help but become closer than they ever wanted or expected. And they'll have to fight for a happy ending they never realized they could have.
"Do I look like the type that makes delicious sweet buns?"
"You look like the type that has delicious sweet buns."
Heather made a face. "You're a pig."
"I'm lashing out," he said with a grin. "My ego's stinging from the fact that you didn't show any appreciation for how hard I work on all this."
He spread his arms to the side and glanced down his body.
I just love Lauren Layne's stories. Her characters are fun, sexy, and adorable, and I never want to leave their world. Josh's issue with pushing away the woman he loves to protect her isn't exactly a conflict I like, but I love them and their relationship enough to make up for it. Also, even as much as I don't like the climax, I still intently followed his journey. I couldn't tear myself away from seeing Heather fight through his issues.
They fought passionately and loved passionately. And even as Heather is a bit uptight, and Josh is too in his desire to remain free and untethered, together they find an acceptance, and love they didn't have before. And really, Josh's arrogance and flirty attitude is just the sexiest thing to me. And I always think it's the cutest thing where these two people fall into couplehood. They make their plans that it'll just be for fun, but soon enough and without them realizing they're each other's dates. They text often and see each other every day.
I highly recommend For Better or Worse. The second in a series, it can be read as a standalone, but I say start with the first because it's just as good. They've got the funny bickering that I love, and even as her stories have a light touch with cute flirty, they delve deep into the characters.
Book Info:

Publication: August 30, 2016 | Pocket Books | The Wedding Belles #2
Will a budding wedding planner and her bad boy neighbor stop banging heads and start hearing wedding bells in the sexy second novel in USA TODAY bestselling author Lauren Layne's irresistible new series that marries Sex and the City with The Wedding Planner?
When small-town girl Heather Fowler finally gets promoted from assistant to actual wedding planner, she's determined to make it as one of Manhattan's elite Wedding Belles. Unfortunately, her first client demands an opulent black-tie affair at the Plaza…in five months' time. Heather's days quickly become a flurry of cake tastings, dress-fittings, RSVP cards, and bridal tantrums. But what she's really losing sleep over is the live music blaring from her playboy neighbor's apartment all night.
Five years ago, Josh Tanner was an up-and-comer on Wall Street, complete with the penthouse and the migraines. But a grim cancer diagnosis made him realize there is more to life than the corner office. If only he could convince his pretty, workaholic neighbor to let loose, too. As Heather lets down her guard, Josh is surprised when he starts falling for the sweet, vulnerable woman hiding beneath those power suits. Soon, it's Heather's turn to convince Josh to take the biggest risk of all: love.