Surgeon's Second Chance in Florence by Kate Hardy really surprised me.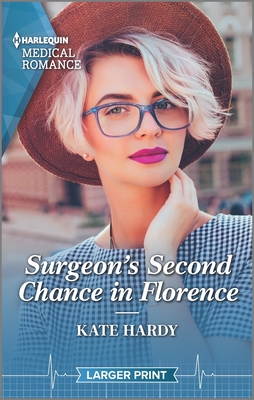 Samantha Clarke has been offered a promotion and a research proyect in the hospital she works but, before she gets it, she has to travel to Florence to train a new foetal medicine unit there. What she didn't expect was that Angelo Brunelli, her ex boyfriend was working in the same unit. The reunion was awkward because they ended badly; Angelo dumped Sam by phone and broke her heart. And his.
As soon as Angelo knows about Sam's working in Florence, he realizes that he needs to come straight, telling her the truth about their breakup. Also, they found out their feelings for each other are resurfacing without even trying it. Or those feelings never died in their two years they've been separated? The risk of falling in love again is higher than the first time they met. Would they end up worse than their first breakup when Sam's work in Florence ends?
"She'd forgotten how it felt to kiss Angelo: the warmth, the sweetness, the coil of desire in her stomach that tightened and grew hotter.

When he finally broke the kiss, Sam's head was spinning and Angelo looked dazed.

'Sam.'

I know' She traced his lower lip with the tip of her finger. 'Me, too.' "
Sam met Angelo in London, she was mourning the loss of her brother. After a few months of friendship, love takes control of their relationship. When a family emergency takes Angelo back to Rome, he thinks he couldn't let Sam deal with his burden and he's protecting Sam from being hurt by dumping her. He never forgot her; in fact, he still loves Sam. Only Sam is more cautious now. She knows if she let Angelo come closer, he could break her heart again. Something she wouldn't risk.
Angelo and Sam's romance is palpable, serene and hot at the same time. Their interactions are exciting: whether they were at work dealing with difficult medical cases, or discovering Florence, or in more intimate moments, their chemistry is intense. The fact that the author manages to create such intensity without including explicit scenes in the story is a very valuable plus.
Something that captured my attention was how Ms. Hardy balances medical terms (briefly explained in an easy language), tourism and romance so effectively that you don't feel the plot going on one specific way. The setting of the story is so well developed you can see yourself in Florence while Sam and Angelo explore the city. Also, the secondary characters create circumstances that makes the book interesting.
This the first medical romance story written—very well written, by the way—by Ms. Hardy that I've read. And I have to say that she nails it! A book that makes you believe in love against all odds. And, P.S., ILOVE the cover of this book!!
Book Info:

Publication: May 24, 2022 | Harlequin Medical Romance |
Love shines brighter under the Italian sun and there's a second chance on the cards for the surgeon… Find out more in award-winning author Kate Hardy's latest Harlequin Medical Romance.
She's in Italy to save lives… …But falling back in love? Surgeon Sam can't believe it! While she's on secondment in Florence, Dr. Angelo will be her new colleague. Two years ago, he left Sam brokenhearted and without an explanation. Now she's stuck working with him—for three months! But Sam soon learns that there was more to Angelo's departure than he let her believe… Can she forgive Angelo and claim her second chance with the gorgeous Italian doctor?
From Harlequin Medical: Life and love in the world of modern medicine.