Surrender at Sunset by Jamie Pope is refreshing, sensual, and a must read!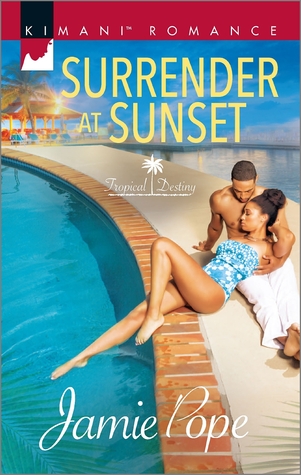 Mr. MVP is not doing so well after getting injured during a playoff game. All Carlos wants to do is be left alone where he can continue to feel sorry for himself. He accomplishes this by going to live at his house on Hideaway Island where no one visits him. What he didn't count on was his sister begging him to have her wedding there. Not wanting to turn down his sister, he agrees she can have it there and looks to hire an interior decorator.
Virginia is more than an interior decorator, she's an artist. An artist who doesn't believe the man on the phone is actually who he says he is. There is no way the sexy shortstop with the squeezable butt is calling to hire her as a decorator. When she realizes the job is for real, life gets interesting.
The attraction between Carlos and Virginia is immediate. She's different than the normal women he meets and Carlos isn't what Virginia normally goes after either, but the connection between them is there and not going anywhere. I really enjoyed how Virginia was able to give Carlos a purpose, one that wasn't baseball, and how Carlos encouraged Virginia's passion. Each character gave something of themselves and it really added to the story.
The characters were a joy to read. Virginia is blunt and not afraid to say what's on her mind. She's also very mature and realistic. When it's time for Carlos to go back to his old life and play baseball again, she handles it with a type of grace that most characters don't have. If letting him go, is in his best interest, then she's prepared to accept the heartache and let him do his thing.
As for the writing, it flows with ease and is very detailed. The characters are well-developed and sizzle throughout the pages. Both the heroine and the hero are definite keepers, who give us the right amount romance, readers crave. This was my first experience with this author and without a doubt, it won't be the last.
Book Info:

Publication: January 19th, 2016 | Harlequin Kimani |
Passion's hideaway
Ever since enduring a possibly career-ending injury, Miami superstar shortstop Carlos Bradley has retreated from the world. His life undergoes a radical makeover when he's convinced to hire a designer to restore his secluded island mansion to its former glory. Completely different from the women Carlos has known, interior decorator Virginia Andersen captivates him with her infectious spirit and the sensuality beneath her coolly professional demeanor.
The owner of a struggling design firm, Virginia can't believe her new employer is a baseball legend. But Carlos wants more than just her expertise. And when he insists she move into his tropical getaway during the renovations, Virginia soon finds herself sharing the irresistible playboy's bed. But when the media descends, she's thrust into the limelight and her past becomes an open book. Is she ready to overcome her doubts to fight for a future with the man of her dreams?