In Sweet Home Highlander (Tartans and Titans #1) by Amalie Howard and Angie Morgan, Lady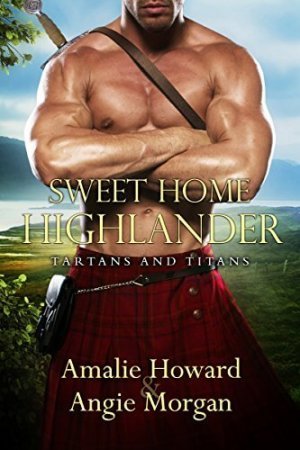 Aisla Montgomery and Niall MacLaren were very much in love until she decided she couldn't take the changes she witnessed in him and left. For the past six years they've been living apart, so now Aisla has returned to Scotland to ask for a divorce. Will Niall grant Aisla her wish or will the love they still feel for each other bring them together again?
I love whenever I read a book penned by these two incredible authors because their heroes are absolutely sexy and their heroines are brave, feisty women that provide quite a challenge for the man they eventually fall in love. And certainly, Ms. Howard and Ms. Morgan have done an absolutely brilliant job with this second chance romance where trust isn't an easy thing to give and lies could destroy any chance they have at a second chance at forever. The way this story started drew me in immediately, as the hero has done everything he can to forget Aisla, and yet, nothing works. Not even what he's putting himself through with his best friend. Who will win?
As for the dialogue, it was intense due to the main characters back stories and past history, but riveting and had me loving this couple's growing relationship because neither of them make it easy for the other. Certainly, the heroine provides the hero quite a challenge with her feistiness and her independence because no way will she give him what he wants. Then again, how long will it be before one of them gives into their intense chemistry? Will it be the hero or heroine? Who will win their wager? Yet, what I liked most of all about the heroine was her resilience, her courage and her determination to help the man that's become her best friend, even though Niall is the man she'll always feel the most for.
While the hero, he's been through tough times and I could understand why he went off the rails and caused the heroine to flee. However, I liked his resilience, his brave nature and I liked how he turned his life around when it all fell apart. I also liked everything he's done to make himself a success and I liked that he could still surprise the heroine. Yet, what I liked most of all about the hero was his determination to win over the heroine, even though he might still lose her because it's hard for either to fully trust the other after everything that has happened.
He placed a finger on her lips. "As for the drink, I was a fool. I'm no' the same."
"I know," she said, rising to her elbows to look down at his beloved face. She kissed him softly. Gently. "And I love you more for it. I regret that we were apart, but without it, I don't think we would have become the people we are today. You would not be this amazing, incredible, talented, resourceful laird, and I would not be…who I am."
He smiled. "A strong, smart, beautiful, powerful woman."
Overall, Ms. Howard and Ms. Morgan have delivered a brilliant first book for this series where the chemistry between this couple was powerful; the romance absolutely delightful, as Niall and Aisla are meant to be; and the ending took me by surprise with what the pair learn about their marriage, had me loving what the hero was willing to sacrifice for the heroine and made me absolutely ecstatic that everything worked out for the best for this couple because they are so good together. However, it was the epilogue that wrapped this story up wonderfully, as everything is as it's meant to be with Niall and Aisla happy and ready for what's to come for their future together. I would recommend Sweet Home Highlander by Amalie Howard and Angie Morgan, if you enjoy Historical Romance, the second chance romance trope or books by authors Lexi Post, Tara Kingston, Jennifer Trethewey and Tamara Gill.
Book Info:

Publication: May 28th, 2018 | Entangled Publishing | Tartans and Titans #1
Lady Aisla Montgomery has a perfectly tolerable marriage…as long as her husband stays in Scotland and she in Paris. But now, years later, she wants only one thing—a divorce.
Niall Stuart Maclaren, the rugged Laird of Tarbendale rues the day he met his beautiful, conniving wife. Though the thought of her incites a bitter and biting fury, no other woman has ever stirred his blood as hotly. When Aisla returns to Scotland to sever ties, Niall agrees on one condition—one week with him for every year of desertion. Six weeks as his wife in his castle…in his bed…in exchange for her freedom.