Sweet Talkin' Lover by Tracey Livesay: Caila is a total workaholic. She puts all her time and energy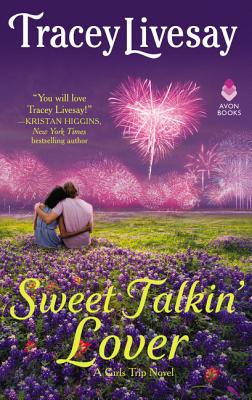 into her job and trying to get the next promotion. She's smart, creative, independent, and doesn't take crap from anyone. She's also determined to never rely on a man to the chagrin of her family and concern of her three best friends.
Wyatt is the sexy and charming mayor of his hometown. He's good at his job, but he struggles to fulfill the plans and expectations of his family while trying to have something for himself. He's developed a bit of a reputation as he's running out of eligible women to date.
Caila's plans are turned upside down when instead of being a shoo-in for the next promotion, she's sent to evaluate a manufacturing plant in a small Virginia town. A small town is the last place she wants to be, but she's intrigued by the mayor. Wyatt and Caila immediately feel the sparks, and she defies his expectations.
"So what are you saying?"
"I think it's pretty obvious," Wyatt said, not bothering to hide the grin spreading across his handsome face. "I guess you're stuck here for the foreseeable future."
Caila can't afford any distractions and Wyatt is quite insistent that needs to be involved in her evaluation with so many jobs at stake. They are on opposite sides and keeping their cards close to the vest. The more time they spend together, the harder it is to remain strictly professional. They are the talk of the town and everyone has an opinion on a potential romance. Despite their differences, they have a lot in common.
Without her heels, he towered over her. "I think you look amazing."
"Will these make me fit in?" she whispered, attempting to get things back on safer ground.
"No."
She started, surprised by his answer. "Why not?"
He cupped her cheek and trailed his thumb along her jawline. "Because I was wrong. You could never blend in, Caila. A woman like you will always stand out."
Sweet Talkin' Lover has family, friends, anticipation, and conflict. Tracey Livesay created an entertaining cast of characters. Ms. Livesay provided humor, heart, and heat. Fans of Alisha Rai and Natasha Anders will enjoy Sweet Talkin' Lover.
Book Info:

Publication: December 30th 2019 | Avon | Girls Trip #1
Tracey Livesay delivers the first novel in her sexy new series about lifelong friends and unforgettable love stories.
When everything is on the line, surrendering completely to love is your only choice…
Marketing manager Caila Harris knows that the road to success in the beauty industry doesn't allow for detours. She's forsaken any trace of a social life, working 24/7 to ensure her next promotion. When grief over her grandfather's death leads to several catastrophic decisions, Caila gets one final chance to prove herself: shut down an unprofitable factory in a small Southern town. But as soon as she arrives in Bradleton, she meets one outsized problem: the town's gorgeous mayor.
Wyatt Bradley isn't thrilled about his nickname, Mayor McHottie. He's even less happy to learn that his town might be losing its biggest employer. If he has to, he'll use some sneaky tactics to get Caila on his side. Yet even as he's hoping she'll fall for Bradleton, he's falling too—right into a combustible affair that shakes them both with its intensity.
Two stubborn people, torn between loyalty, ambition, and attraction. But when you're willing to give it your all, there's no limit to how far love can take you…