Whiteout by Adriana Anders is an exciting, fast paced romantic thriller and the first in the author's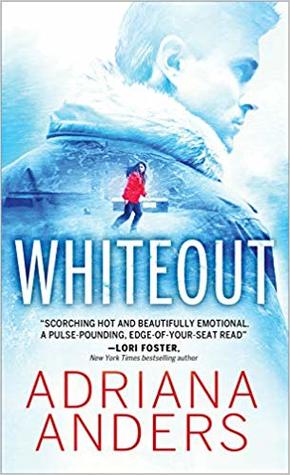 Survival Instincts series.
The Burke-Ruhe research station at the South Pole isn't the location Angel Smith ever thought she'd end up as a cook, but it's as good a place as any to have a brand new start. The few months she's spent in the coldest place on earth has taught her about human resilience, including her own. With plans to depart the next day with the summer crew, she'll miss the people, even the grumpy Dr. Ford Cooper, or 'Ice Man', who prefers the cold outside rather than the human warmth inside. She can't deny that she finds him attractive despite his cold and impersonal attitude but she's not foolish enough to think that he returns those feelings when even getting a 'thank you' out of him is a stretch.
With plans to leave the over-winter crew with a stocked kitchen, Angel heads into the supply arch underground and stumbles across more than she bargained for and the horrifying realization that some of her crewmates are involved in something so secret they're willing to kill to protect their plans. At the same time, Ford is suspicious of a series of events that don't have a logical explanation and is doing his own investigating, leading him to a fleeing Angel and the confirmation of his suspicions. With no choice but to abandon the station if they want to survive, Angel and Ford are in a race against time, the elements, and their pursuers as they make their way across the frozen land towards another scientific base. Along the way, Angel discovers that her attraction to Ford isn't so one sided after all. But will they survive long enough to have a chance at a happy ending?
Once I started this story I could not put it down! In fact, I read it all in one go, as there was no point in the story where I felt I could leave it without knowing what would happen next. The setting of Antarctica adds a layer of tension that you don't find in other romantic suspense stories because the cold itself is a nemesis to survive and the author writes that extra layer in a truly nail-biting fashion. Wind, snow, frostbite, hypothermia, glaciers, crevasses, underground caves and tunnels – it all adds up to some excellent worldbuilding.
Angel's resilience and strength are a huge factor in the story. From discovering the duplicity and murderous tendencies of some of the people she'd worked alongside, to the knowledge that her only chance of survival is to follow Ford out into the elements and keep up with him, it's an hour by hour struggle. But her life is worth the effort and she gives it her all. Ford sees this and respects her for it, though he balks at her insistence that if there comes a time where he has to leave her behind, he should save himself. There's no way he'll leave behind a teammate and that's what they are.
Now that they are forced into survival mode, he can also admit to himself that he is attracted to her, a scary proposition for someone who was trying to avoid any kind of commitment to anyone to the point of moving to Antarctica to do it. But Angel is under his skin and in his thoughts and soon enough they succumb to the most human of tendencies – to turn to each other for warmth, comfort and some good old fashioned sex. As they journey together, he opens up to her and she sees the real Ford who isn't an 'ice man' after all. And their burgeoning relationship gives them another reason to survive.
There are plenty of twists and turns along the way to their happy ending. Near the end we meet some other characters who will feature in more stories in the series. The ending is a bit long as it introduces these other characters and expands on some of the mysteries of what was really going on at the Antarctica research stations but it sets things up nicely for the next in the series. If you like suspenseful, sexy romances that keep you on the edge of your seat, I highly recommend this one and I'm definitely looking forward to reading what comes next!
Book Info:

Publication: Jan 28, 2020 | Sourcebooks Casablanca | Survival Instincts #1
Angel Smith is ready to leave Antarctica for a second chance at life. But on what was meant to be her final day, the research station is attacked. Hunted and scared, she and glaciologist Ford Cooper barely make it out with their lives…only to realize that in a place this remote, there's nowhere left to run.
Isolated in the middle of a long, frozen winter with a madman at their heels, they must fight to survive in the most inhospitable—and beautiful—place on earth. But the outside world depends on what Ford and Angel know and, as their pursuers close in and their new partnership burns bright and hot, they will stop at nothing to make it out of the cold alive.