A Cowboy Never Quits by Cindi Madsen is the first book in her new series, Turn Around Ranch.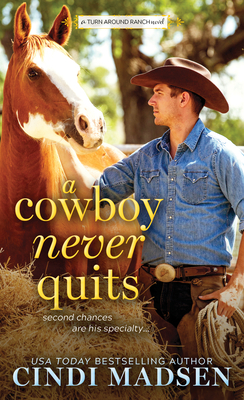 There aren't just troubled teens at the Turn Around Ranch. There's a loving atmosphere that will warm your heart!
Turn Around Ranch has an excellent reputation as "THE" place for troubled teens to get a new start in life. Jessica Cook has driven a long way listening to her rebellious teen daughter Chloe whine and carry on about how her mother has ruined her life by taking her to this correctional ranch for teens. Of course it's Chloe who has put herself in this position. She was caught in a stolen car with her "bad news" boyfriend and hauled off to jail. This ranch is Jessie's response to the middle of the night phone call from the police station.
It's a long way to go for what might be a wasted trip. Jessica hasn't secured a place there for Chloe plus she really doesn't have the money to pay for it. She will make it work somehow. Now that she's here and facing the ranch-owning Dawson family, especially Mr. "Gruff-and-Grumpy" she's not so sure she can pull this off though. She is told that their roster of teens is full and they can't help. As Wade "Gruff-and-Grumpy" Dawson is escorting Jessica out Jessica notices a sign saying Help Wanted – Cook for Turn Around Ranch. Yes! She can make this work if she can get hired as the cook. Never mind the fact that she can't cook. She can make it work. Burned biscuits and eggs the following morning for breakfast isn't an auspicious start but Wade didn't fire her. Now if only she could ignore her attraction to Wade. But wait – he looks at her with interest as well.
This was a truly delightful read. I loved all the characters, the family and staff's devotion to the troubled teens and the mother-daughter love between Jessica and Chloe. Chloe was furious with her mother for dragging her to the ranch but the way the author developed Chloe's reinvention of her life and renewal of faith and love for her mother was a warm, emotional aspect to the story. The relationship that developed between Jessica and Wade enabled the warm and fuzzies in my heart. The goodbye scene towards the end of the book when Jessica and Chloe were leaving to go home brought tears to my eyes. A very emotional scene. It was beautifully written. In the end the readers gets a very happy HEA. I look forward to more books in this series.
Book Info:

Publication: December 31st 2019 | Sourcebooks Casablanca | Turn Around Ranch #1
These hardworking cowboys give everyone a second chance…
When single mom Jessica Cook is at the end of her rope, she takes her 16-year-old daughter to Turn Around Ranch. The ranch has a great reputation for teen therapy, and Jessica prays there's room there for her and Chloe.
Wade Dawson's first priority is to keep the ranch afloat to help teens and their families. But he can't seem to keep his boundaries when it comes to Jessica—she's talked her way into a job on the ranch so she can stay near her daughter and her tenacity and courage are truly impressive. Not to mention she's a natural beauty and sparks fly whenever he's in her vicinity.
But as one crisis after another befalls the ranch, Wade is going to have to decide whether he can afford to let a woman get under his skin…