In Shake It Up (Man of the Month #8) by J. Kenner, Austin police detective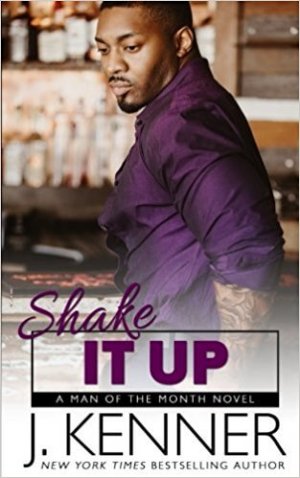 Landon Ware has seen plenty of bad situations happen when it comes to stalkers and their intended targets. And he's usually able to remain calm and collected during his investigations into such cases. However, when he's asked by his buddy Brent to watch over Taylor D'Angelo, a woman who's held his attention for some time now, Landon goes into uber protective mode. No way will someone threaten or harm Taylor on his watch.
"Do you have any idea how long I've wanted to taste you?" he asked, his lips brushing her skin as he spoke.
"Me, too," she murmured, the truth in those words cutting into him.
With the events intensifying and becoming more and more worrisome, Taylor is very glad to have such a stand up guy like Landon by her side. Even if it means she can't ignore the zing between them or the lust she catches in his eyes when he doesn't know she's looking. Taylor wants very badly to see exactly where their attraction could take them but she doesn't want to put Landon at further risk. Especially if she might have to cut and run at some point. But she's not sure either of them will be able to hold strong and not give in to the intensity of their feelings for each other.
She shook her head, then pressed a finger to his lips. "Whatever you're going to say, don't. We both want this. And right now, I don't care about tomorrow. Tonight, all I want is you."
Shake It Up was an exciting and satisfyingly romantic book that had me cheering on our lovebirds from page one. Great chemistry, mutual respect, and a thread of danger made this a captivating tale.
"You really do think I'm in trouble, don't you?"
He touched her face. "I think I'm not taking any chances with you."
I have no idea how J. Kenner is keeping each installment in her sexy Man of the Month series so fresh and interesting, but I'm loving the tropes, the unique pairings and the oh-so steamy romances she's created so far. Landon and Taylor's story was actually more of a romantic suspense, with Taylor being stalked and Landon as her bodyguard of sorts, which made for a lot of yummy tension. This also had two other elements that may or may not work for some readers, but I enjoyed it for the diversity: there was a difference in their age of about a decade, and it was an interracial relationship. To me, love is love, so I completely dug Landon and Taylor's differences–which seemed to really enhance their connection in my eyes.
Landon was an alpha guy with a huge heart. I loved that he was protective of Taylor but he didn't put her down or belittle her for needing someone to watch out for her. Instead, Landon was able to teach her a few things about how to be more aware of her surroundings and that it was okay to ask for help. Not that Taylor was a slouch or a weak person. If anything she was one brave, tough as nails woman who had been through a whole lot of bad in her life. Then again, Landon hadn't exactly had it easy in his early childhood. And that was a real way in which they bonded to form a friendship outside of their crazy chemistry.
Landon–aka Mr. August–had it seriously going on in Shake It Up, much to our heroine Taylor's good fortune. I think readers will fall for this sweet & sultry duo and it will just make you crave the next book even more to see how Kenner will be able to top this one.

Book Info:

Publication: Published May 1st 2018 | Martini & Olive Books | Man of the Month #8
There are a million reasons why I need to stop thinking about Taylor D'Angelo naked.
She's too young for me, for starters.
She's too ambitious.
She's my job.
Romance was the last thing on my mind when I agreed to look into her stalker as a favor.
Now, she's all I can think about–and in every position I can imagine.
I'm not the only one obsessing.
The threats against her are intensifying along with our connection.
If I give in, if I let our bodies take over, it could draw her stalker out.
Our passion could save her.
Or it could destroy us both.
Meet Mr. August – He'll do anything to protect her.
**Shake It Up is part of a binge read series by New York Times, USA Today, Wall Street Journal, Publishers Weekly, and #1 International bestselling author of the million copy Stark series, J. Kenner.
Each book in the series is a STANDALONE novel with NO cliffhanger and a guaranteed HEA!