Take a Hint Dani Brown by Talia Hibbert: Quite simply, there is buckets to love in this little snuggle.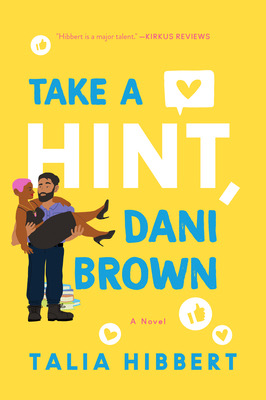 And perhaps more intriguing, is the deep paradox crafted in Danika; an incredibly intelligent woman, who literally writes and teaches about gender and race representation in literary and historical texts, yet has no understanding of why things are represented in the first place, aka the unscientific inexplicable nature of well, human nature.
From early on, work obsessed, part time witch Dani, calls on the universe to gift her with some fun man meat, and in due course, she sets up some pretty hefty boundaries for herself, in part because of a painful past and her often non-existent work-life balance. And in the midst she becomes a star in her own rescue adventure.
Zaf, the ex football player, building body guard, initially appears incredibly OCD about WPHS, rescuing Dani from a fire drill and carrying her, quite unnecessarily out to the light of day. Zaf however, turns out to be some sort of Zeus like god (minus the tendency to cheat on his wife and blame it on the wind) and his back story is real, exquisitely painful and a powerful unpacked bag of masculinity. Hibbert appropriately explores anxiety in men and the real and present struggle and well – wow – if only men really did read romance novels and sisters in law threw them affectionately at their heads more often.
This was a tragically funny novel about an uber confidant woman who fell in love after being swept up by a social-media premise, who finds her heart at the end of the chain that lies between her envious breasts.
Take a Hint Dani Brown presents the imperfect perfect character who was a delight to read and whom I can only imagine was a challenge to shape and write. I love people who live in their heads and whilst I could have traded the excessive descriptions for more of the internally answered rhetorical questions, it's easy to rush on despite too muching. Undoubtedly, it is the beautiful pacing, and the witty and snort worthy writing that roller-coasters along without so much as a rail chug which, by the end enables anyone with a heart beat to be swept away and caught up in the thrill of it all.
Book Info:

Publication: 23rd June 2020 | Avon | The Brown Sisters #2
Danika Brown knows what she wants: professional success, academic renown, and an occasional roll in the hay to relieve all that career-driven tension. But romance? Been there, done that, burned the T-shirt. Romantic partners, whatever their gender, are a distraction at best and a drain at worst. So Dani asks the universe for the perfect friend-with-benefits—someone who knows the score and knows their way around the bedroom.
When brooding security guard Zafir Ansari rescues Dani from a workplace fire drill gone wrong, it's an obvious sign: PhD student Dani and ex-rugby player Zaf are destined to sleep together. But before she can explain that fact, a video of the heroic rescue goes viral. Now half the internet is shipping #DrRugbae—and Zaf is begging Dani to play along. Turns out, his sports charity for kids could really use the publicity. Lying to help children? Who on earth would refuse?
Dani's plan is simple: fake a relationship in public, seduce Zaf behind the scenes. The trouble is, grumpy Zaf's secretly a hopeless romantic—and he's determined to corrupt Dani's stone-cold realism. Before long, he's tackling her fears into the dirt. But the former sports star has issues of his own, and the walls around his heart are as thick as his… um, thighs.
Suddenly, the easy lay Dani dreamed of is more complex than her thesis. Has her wish backfired? Is her focus being tested? Or is the universe just waiting for her to take a hint?