Take Me (Take a Chance #4) by Diane Alberts: Middle school history teacher Mike Worth is a good-looking charmer. He has no more than a couple of dates with a woman, sleeps with her and then moves on. He has no interest in a relationship, marriage or having a family. He has never been in love and professes that the single life is the only way he can be happy. That is until he meets Morgan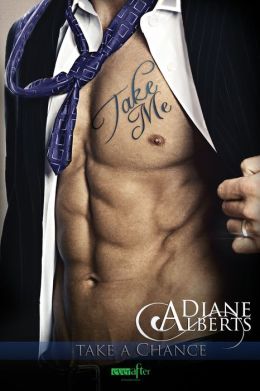 Collins, a professional dancer that takes his breath away.
Morgan loves dancing and being a Las Vegas showgirl. She has recently received a callback from the national touring company of Chicago and is very excited about it. In between her dancing work, she supplements her income by working as a bartender and teaching ballet. Morgan's life is her dancing and she believes that a relationship of any kind, will stifle her career.
Sparks ignite when Mike and Morgan meet for the first time. After a few lustful kisses, they are on fire and end up spending a passionate night together. Although Mike surprises himself by asking Morgan for her phone number the following morning, he is equally surprised when she declines to give it to him. Morgan does not want any emotional involvement to derail her career.
Mike's sister Brianna manages the Golden Hand, a casino that is being refurbished and revitalized. Tonight, the casino's new show is debuting and Mike promised his sister he would be there. Mike notices Morgan immediately, and is dumbfounded by her talent. All it takes is a cocky smile and a wink from her at the end of the show, for Mike to seek her out backstage. A passionate kiss leads to a few drinks, a few shots, some dancing, more drinks and a drunken bride and groom. They wake up the next day in the honeymoon suite, fully clothed, with his and her wedding bands. Of course neither of them remember much from the night before.
Mike and Morgan realize that there must be more to their hooking-up than just mind-blowing sex for them to have gotten married, even in a drunken stupor. Since they both recognize they have strong feelings for each other, they agree to go the marriage route for a few days and see if it means anything. Luckily, after overcoming a few obstacles and realizations, they find their happiness.
Take Me is a well-written, sexy novella. The love scenes are hot, sensual and steamy. The story is engaging and flows at a nice pace. If you need a little spice in your life, give this short-story a try.
Book Info

Publisher: Entangled: Ever After (August 26, 2013)
Married in the morning…
Professional heartbreaker Mike Worth thrived on the chase—and dancer Morgan Collins represented the ultimate prize. But there was no way he was going to throw away his single-man status…not even for an elusive redhead with sparkling eyes and mile-long legs. So how did he let one drunken Vegas night end with I do instead of hell no?
Morgan's life revolved around her career and she had no intention of letting a man interfere—even if Mike made her question all her rules about love. At his urging, she reluctantly agreed to give their spur-of–moment marriage a chance. But once their trial-honeymoon ended, would she choose to follow the dance and leave her unforgettable husband behind?