In The Hero (Thunder Point #3) by Robyn Carr, Spencer Lawson is new to Thunder Point but is already fitting in nicely, gearing up for his role as the town's new football coach. After the recent loss of his wife, he moved his son, Austin, to Thunder Point to be near his biological dad. Spencer didn't anticipate his reaction to a beautiful stranger who arrives in town with her young daughter in tow. He senses her fear of trusting strangers and knows she must have quite a story to tell. Spencer starts off just trying to become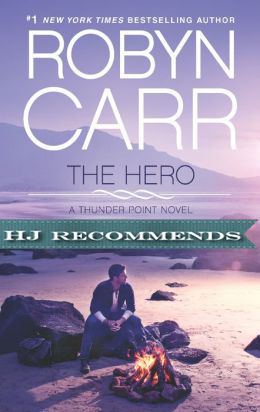 Devon's friend, helping her feel comfortable in town and letting her know he is available to talk to at any time. But before long he finds himself having crazy thoughts of building a relationship with Devon. He certainly isn't looking for a new love in his life, yet he can't deny his longing for her. They've both traveled a long, difficult road in the past but he hopes they can help each other heal and create a new life together.
'He already knew he found the girl intriguing and attractive and complicated–spending more time with her just didn't make sense for a man in his position, single father, recently widowed, vulnerable. But then he put his hand on the small of her back, brought her gently up against him, and that's where all thinking ended.'
Devon McAllister and her three year old daughter, Mercy, are on the run. She left the commune under the cover of night with no plan other than to get as far away as possible to build a new life. A kind older gentleman gives her a lift into Thunder Point and offers to help her out, getting herself back on her feet again. At first Devon is leery of him, waiting for the other shoe to drop, but he proves to be honest and trustworthy. He introduces her to his friends and co-workers as his distant cousin. The kindness of these strangers is overwhelming to Devon initially but she soon realizes how lucky she is to have found such a place. Then Spencer surprises her by listening to her and helping out whenever possible, not expecting anything back in return. She's very attracted to him but tells herself it's too soon to even think about getting involved with someone. Spencer becomes a fixture in Devon and Mercy's lives and their friendship begins to grow until they can no longer deny their feelings. Just when they think they might finally find their happily ever after, old emotions and danger invade their lives. Will Spencer and Devon be able to fight their way through and come out unscathed?
'He'd kissed her. Really kissed her right off her feet. He'd stunned and paralyzed her and it made her want to kiss him back.'
Book three in the Thunder Point series is yet another winner for Robyn Carr. The new addition of both Spencer and Devon to the small community brings us friendship, passion and danger. Even though the book focuses mainly on these two wonderful characters, we still get to catch up with the other residents in town and there are some major events that take place. (I don't want to ruin the fun and give any spoilers!) I highly recommend this heartwarming romance whether you've read the previous two books in this series or not.
Book Info:

In a moment of desperation, Devon McAllister takes her daughter and flees a place where they should have been safe and secure. She has no idea what is around the next bend, but she is pretty certain it can't be worse than what they've left behind. Her plan is to escape to somewhere she can be invisible. Instead, an unexpected offer of assistance leads her to Thunder Point, a tiny Oregon town with a willingness to help someone in need.
As the widowed father of a vulnerable young boy, Spencer Lawson knows something about needing friendship. But he's not looking for anything else. Instead, he's thrown his energy into his new role as Thunder Point's high school football coach. Tough and demanding to his team, off the field he's gentle and kind…just the kind of man who could heal Devon's wounded heart.
Devon thought she wanted to hide from the world. But in Thunder Point, you find bravery where you least expect it…and sometimes, you find a hero.