Take on Me by Sarah Mayberry is the first story in her Secret Lives of Daytime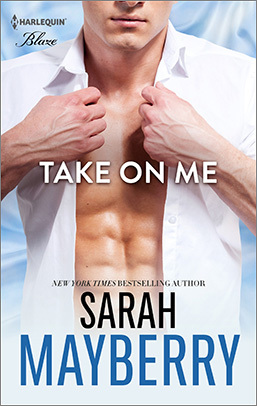 Divas series. Originally published in 2007, it's been re-released in digital format with a new cover. While the era of the TV soap opera is waning, I used to be a devoted fan (General Hospital and Days of Our Lives were my favorites), and this sexy story showcases a bit of what it would be like to work behind the scenes on a daily drama, while providing a delightful enemies to lovers trope romance.
Dylan Anderson and Sadie Post have a history, and it's not a particularly good one. Students at the same high school, Sadie's crush on Dylan was cruelly thwarted when a misunderstanding led to a public humiliation at their prom. Years later, the effects of those days are part of what's made them who they are today, and brought them back into each other's orbits – only this time Sadie is Dylan's boss, as the script producer on a daytime soap where Dylan's been hired temporarily as a story editor to replace one of her staff. Old feelings of resentment and anger are quick to rise up, but so are new ones of unwanted sexual attraction. Can they find a way to put the past behind them for the sake of the show, and their own second chance?
I'm a big fan of Sarah Mayberry's writing in general but I've missed some of her earlier Harlequin titles so it's fun to be able to read them now! While there were a few dated references in this one making me believe they didn't go through much re-editing before release (I'm of an age where the name 'Alexis Carrington' is familiar, but it may not be for you), the majority of the story stays clear of any real jarring notes that would take the reader out of the story. In fact, I found it quite delightful to read about the background drama of script writing for a daily soap opera and all that would entail.
Dylan and Sadie's hurts from the past are very real, and they influence how they interact with each other as adults. Combined with the unwanted attraction between them, it leads to some serious sexual tension. And when they act on that tension once, they both agree it can never happen again – so of course it does! They share some steamy scenes that belie their animosity towards each other, and make them realize that those long ago high school events should be seen through an adult lens. And when they open up to each other and share certain details that were unknown at the time, the hurt between them fizzles out and they are left with a new reality – that they are falling for each other.
I really enjoyed how the story unfolded, with Sadie's two best friends Claudia and Grace coming through as valuable sounding boards once she tells them about her past with Dylan and how she feels now. Sadie and Dylan both have reasons for avoiding getting into committed relationships, and this, along with their past history gives them some conflicts to work through. All's well that ends well though, with this couple getting a satisfying happy ending to their tale. Grace and Claudia get stories in this series too, so I'm looking forward to reading what's next!

Book Info:

Publication: Feb 13, 2017 | Harlequin Blaze | Secret Lives of Daytime Divas #1
Rediscover this steamy reunion romance from fan-favorite author Sarah Mayberry
She's getting even…her way!
On prom night, Dylan Anderson caused the biggest humiliation of Sadie Post's life. Getting over her crush on him took a while, but now she's grown up and moved on. Until Dylan moves in…to her workplace, that is. Suddenly it's high school revisited—complete with her lustful thoughts about him.
But she's his boss and finally has the upper hand—she won't let her sexy fantasies change that. Too bad the tension spiking between them is so high, it's inevitable they hit the sheets—or the nearest desk. And once they do, Dylan is better than she'd ever imagined. She promised herself to leave him begging for more…but does she really want to?
First published in 2007