Sets Appeal by Virginia Taylor: Recently divorced and now working her first job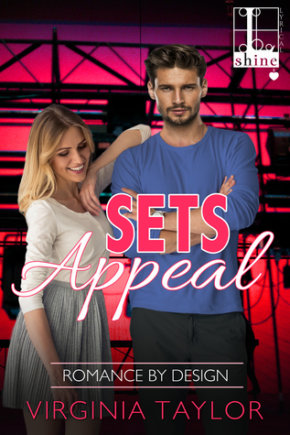 as a set painter, Vix is looking to leave her baggage behind and perhaps find a man to give her what her ex-husband never could. With her eye on her coworker, Jay, she has no idea what she's getting into. Not when he's not the stranger she thinks he is and he isn't just in this for a fling.
Jay's future was ruined by Vix's ex-husband and although revenge crosses his mind, nothing could be further once he actually gets to know Vix. Soon enough, he's falling hard for the wealthy heiress, the exact opposite type of woman he ever saw himself with.
But with secrets between them and lifestyles too dissimilar for either of them to believe they can work past, this romance may stay nothing but a fling.
What I liked about Sets Appeal is that they were such different people coming from such different backgrounds, but together they were perfect. In fitting one another, they helped provide that sense of stability, love, and strength each was missing.
However, I had a very hard time getting past the writing and general voice of the characters. They felt very juvenile and I just could not care for JD or (and especially) Vix. She, honestly, was odd and overly insecure – although thankfully she did become stronger throughout – and there was a very strange plotline concerning their sex life and her discomfort with sex at all.
For those who enjoy the shier, quieter heroine and the man's man hero I recommend Sets Appeal. It didn't work for me, quite honestly, but they do have a very sweet romance together.
Book Info:

Publication: April 25, 2017 | Lyrical Shine |
In the cosmopolitan coastal city of Adelaide in South Australia, two theater lovers create a little drama of their own…
Twenty-seven-year-old divorcée Vix Tremain finally has her first job—as a theater-set painter—and is ready to leave the past behind. What better way to get her confidence back than a fling with a handsome stranger? She isn't looking for anything emotional, she's had enough heartbreak. Rugged Jay Dee, the set construction manager, fits the bill for no strings fun perfectly. What Vix doesn't realize is that Jay is not exactly a stranger . .