Take the Lead by Alexis Daria is book one in the Dance Off series and if you're a fan of Dancing with the Stars, this is the book for you!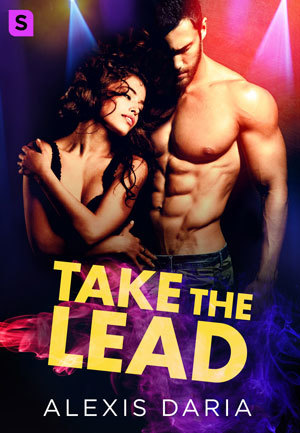 Gina Morales is on her fifth season of The Dance Off and has never made it to the finals. When she meets her new partner, she believes she can actually win this time. He's sexy, filled out with muscles, and knows how reality television works, since his family has their own show.
Stone Nielson hates reality television, despite his family's show, Living Wild. He doesn't want to join the cast of The Dance Off, either, but his family needs the money and he sacrifices his wants for his family. When he meets his partner, Gina, he's immediately attracted to her, but can't afford to get too close to her and let her find out the secrets he his hiding. But when the show's producers push them together, in the name of ratings, things get complicated.
Gina refuses to cater to the producers and give them the romance their after, so even though they heat up the dance floor and other places, their relationship will have to stay a secret. But like all secrets, they come out and when they do, both Gina and Stone will have to face the music and decide what is most important to them. Will it be family, fame, or their future together?
I liked Gina. She was hardworking, not willing to put her morals aside for the sake of a win, and she was very talented. As for Stone, he was quiet, brooding, and a quick study when it came to dancing with Gina. Both of their personalities meshed well with each other and it didn't take long to realize they would be a great couple…on and off the camera. The pacing of the story was off a bit and I really didn't like Stone's family. On the other hand, I did enjoy other secondary characters, such as Natasha and Dimitri, and can't wait for their story. Overall, Take the Lead is a fun story full of dancing and drama…What more could you want?

Book Info:

Publication: October 3rd 2017 | Swerve | Dance Off #1
Gina Morales wants to win. It's her fifth season on The Dance Off, a top-rated network TV celebrity dance competition, and she's never even made it to the finals. When she meets her latest partner, she sees her chance. He's handsome, rippling with muscles, and he stars on the popular Alaskan wilderness reality show Living Wild. With his sexy physique and name recognition, she thinks he's her ticket to the finals—until she realizes they're being set up.
Stone Nielson hates Los Angeles, he hates reality TV, and he hates that fact that he had to join the cast of the The Dance Off because of family obligations. He can't wait to get back to Alaska, but he also can't deny his growing attraction to his bubbly Puerto Rican dance partner. Neither of them are looking for romantic entanglements, and Stone can't risk revealing his secrets, but as they heat up the dance floor, it's only a matter of time until he feels an overwhelming urge to take the lead.
When the tabloids catch on to their developing romance, the spotlight threatens to ruin not just their relationship, but their careers and their shot at the trophy. Gina and Stone will have to decide if their priorities lie with fame, fortune, or the chance at a future together.