In Taken Home by Ruth Cardello, Chelle Landon is watching her friends fall in love and getting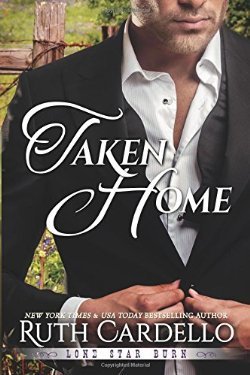 married. She feels left behind, but more than that, she feels like she doesn't know who she is. She works for her parents but it isn't her dream job. She's never left Texas, and all she wants to do is leave the state to discover not only new places, but herself as well.
California State Senator Mason Thorne is in Texas at the invitation of his friend, Charles, who is dating one of Chelle's friends. He's hiding out from a woman he slept with, who happens to be the daughter of one of his colleagues, and who believes there's more to their relationship than there is. Upon meeting Chelle, he realizes she's the answer to his problems and they decide to fake an engagement. When Mason returns to California, Chelle's friends convince her to go out there and have him show her around. It solves two problems; she gets to travel, and she gets to see Mason again.
I liked Mason and Chelle together. He was hardened by what life had handed him, and she was soft and trusting. He believed he wasn't good enough for anyone, while she sought to convince him otherwise. They were opposites but yet they worked well together.
What I didn't like was Charles's attitude towards Mason. For someone who was supposed to be his best friend, Charles seemed to have a very negative attitude towards Mason, and he had no problem expressing his feelings to him, making Mason feel worse than he already did. Charles could have been more tactful in the way he handled his feelings regarding Mason and his relationship with Chelle.
While this is the third book in the series, it can be read as a stand alone. I'm curious enough about the other characters featured in this story that I'll probably go back and read the first two books.
Taken Home is a story about taking chances to discover who you are, even if taking the chance is scary. I recommend giving this book a try.
Book Info:

Publication: April 5, 2016 | Montlake Romance | Lone Star Burn #3
Playboy Mason Thorne is nothing short of complicated. Though he was a movie star at a young age, his life took a downward spiral when he turned to drugs after losing his mother. He cleaned up his act and became a senator but still keeps his distance from most everyone—including his own father. There are plenty of women around, but most are gone by morning.
Twenty-five-year-old Chelle Landon thinks she must be the last virgin in Texas. She's worried if she doesn't remedy it soon, she'll stay one forever. She attends yet another small-town wedding where the last single man her age is officially off the market, until sexy politician Mason Thorne appears. He's the answer to her prayers, if one can pray for something that decadent.
He needs a cover story, not another lover. Chelle's on a mission to lose her virginity, no matter what. Will he break her heart or will she heal his?