In The Groom Wore Plaid (Highland Weddings #2) by Gayle Callen, Owen Duff, the new Earl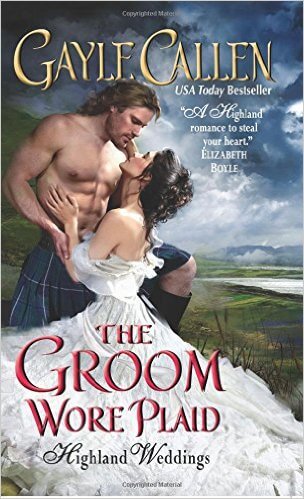 of Aberfoyle, has entered into a betrothal with Maggie McCallum to honor a marriage contract their fathers made when they were babies. In order to keep their clans from feuding, Owen will do whatever it takes. Even marrying a woman who he once trusted and who he is still attracted to. But when Maggie begins speaking nonsense again, this time her so-called dream showing him in danger on their wedding day, he has to decide if he can believe what she says.
"The feud between our clans lasted centuries. The acceptance of peace and the fostering of goodwill will take at least our lifetimes." A corner of his mouth lifted. "You and I will be the beginning of it."
Maggie has accepted her role in keeping the peace between clan McCallum and clan Duff, but after a dream foretelling her future husband Owen's death, she tries to find another way to fulfill the contract. She may harbor bad feelings toward him after he broke her heart when they were teens, but Maggie doesn't wish to see Owen harmed. As plans for their nuptials continue, they both come under threat by an unknown source. She tries to keep her growing feelings controlled but as their wedding day draws closer, she prays Owen will finally take her vision seriously and come up with another plan.
"I made the choice to take you as my bride, and you will not be able to dissuade me. I choose to look upon this marriage as a destiny that began when we were young."
"Destiny?" she shot back. "Ye believe in something as untenable as fate, but ye won't believe when I speak the truth."
The Groom Wore Plaid had several interesting elements that added up to a rock solid historical romance: tension between rival clans, guys in kilts, a second chance romance, lies and betrayal, and a bit of mysticism. And did I mention the guys in kilts?
The Highland Weddings series has been full of excitement and a whole myriad of emotions so far. I think readers could start with this book even though it is the second in the series as enough of the previous story is explained for everything to make sense. Gayle Callen again gave us a romance where our hero and heroine faced daunting challenges before they could claim their HEA, sprinkling in some mystery and family issues along the way.
Maggie and Owen's history added a layer of tension to their journey that was both fun and bittersweet. Their conversations were filled with intelligence even when they were arguing, which happened often. But what I enjoyed most about Owen and Maggie was watching them reconnect while the passion slowly built between them again. There was no question they were attracted to each other, but they had trust issues between them stemming from both their family's rivalry and from when they spent time together as teens.
The pacing of the story was perfect, making this a rather quick read. And I loved that it started off with a prologue from ten years prior, showing us how things first went wrong between Maggie and Owen. It really helped me understand why there was some underlying animosity on Maggie's part and why Owen didn't necessarily believe everything she said. That came into play when they both were being threatened, as Owen wasn't sure if it was someone in his clan, someone from Maggie's clan or even Maggie herself that was the cause. I myself had a few theories on who the culprit was and I was partially right, but there was a twist at the end that I didn't see coming, which was great.
I think fans of historical romances set in the Scottish Highlands will fall in love right along with Owen and Maggie. With a nice smattering of local history thrown in and a bunch of well developed characters, The Groom Wore Plaid will be a great addition to your reading list.
Book Info:

Publication: Published February 23rd 2016 | Avon | Highland Weddings #2
Falling in love means tempting fate in this passionate new novel in USA Today bestselling author Gayle Callen's Highland Weddings series.
Maggie McCallum's dreams about her new fiancé aren't the romantic sort. It's not just that she was bartered to Owen Duff like a piece of property to end a clan feud. She's also haunted by premonitions of his death on their upcoming wedding day. Yet the exasperating Highlander won't let her call it off, even though his life and his clan are both in jeopardy.
Owen has wanted Maggie in his bed since he first glimpsed her years ago. If their union restores peace between their clans, so much the better. But while lusting after another chief's sister had its risks, growing to trust Maggie is far more dangerous. Owen is falling deeply in love with the one woman he cannot hope to claim . . . and survive.