Takes Two to Tackle by Jeanette Murray: Stephen returns home from rehab with a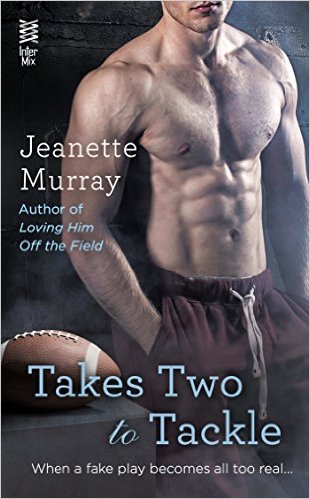 determination to stay sober if for no other reason than to keep his job. Football and the team are his life and he doesn't know what he would do if he was cut from the team. But during his stint in rehab, he lost a significant amount of weight and muscle that is needed for an offensive lineman.
Margaret, aka Mags, can't wait for the day when she can run her own cleaning service instead of working for a cleaning service. She's become the go-to cleaner for the football team since she doesn't clean and tell. Since she enjoyed working for Stephen, she decided to keep his house clean even during his absence. It gave her some time to reorganize without his interference.
She ignored that and put some apples in a shallow wooden bowl by the never-used KitchenAid mixer. "And remember me begging your to let me reorganize the drawers and cabinets?"
Stephen pulled the spoon from his mouth and pointed it at her. "I remember saying no."
"Since you weren't here, I decided to do you a favor and organize your house for you."
In an effort to keep his job, Stephen told the coaches that he had a girlfriend who would help keep him on track. Now that he's in a bind, he approaches Mags about being his live-in sober coach and fake girlfriend. Mags is the one person he could imagine keeping him in line since she's always called him on his crap and doesn't beat around the bush.
Mags knows that this is a bad idea; she's been attracted to Stephen for some time and his new body and attitude are that much more enticing. But helping him and getting the money to help fund her business sway her decision. Soon they are spending almost all of their free time together and the attraction continues to build. Before long their fake relationship becomes a whole lot more real and the line becomes blurred.
"I don't understand. There, I said it. I don't understand why you're upset. I pay you for being here, don't I?"
She stiffened at that. "You do, yes. And I'm working while I'm here. Should I start keeping a time clock for when I'm working and when I'm relaxing, so you know if your money is being well spent?"
Takes Two to Tackle is a fun and sexy sports romance that keeps you saying that you'll read just more one chapter. Jeannette Murray created two really well matched characters in Stephen and Mags. They are intelligent, tough, dedicated, and more than the stereotypes of their respective professions. Ms. Murray provided great secondary characters in this standalone. Fans of Rachel Gibson and Susan Elizabeth Phillips would enjoy Takes Two to Tackle!
Book Info:

Publication: Expected publication: September 15th 2015 | InterMix | Santa Fe Bobcats #3
Sometimes faking it is your only option…
Football player Stephen Harrison has hit rock bottom—he's fresh out of rehab, lost too much weight to be an effective offensive lineman, and has no support system in place. The Bobcats staff suggests he get a life coach to keep him sober and get him back into playing shape, but Stephen says his girlfriend will help. Too bad he doesn't have one…
Luckily for Stephen, he does have a housekeeper. Margaret has always dreamed of starting her own elite cleaning service, and the money Stephen offers her to play the part of girlfriend is too good to pass up. But while Mags is helping Stephen bulk up and get ready for training camp, she can't seem to block the feelings crashing into her heart. And one night of passion will pull both of their heads out of the game…