Truth or Beard by Penny Reid: If you haven't read a Penny Reid story before, this is as good as any to start your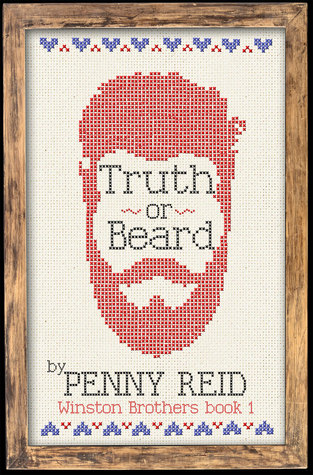 journey into her unique world of humour, nerdiness (yes, that's a word), sexy, sometimes emotional, and always entertaining books. Truth or Beard is the first story about the Winston Brothers, a spin-off of the Knitting in the City series, the last of which called Beauty and the Mustache involved Ashley Winston and introduced us to her band of brothers. There are 6 brothers, and each will have their own standalone story, written in dual point of view (my personal favourite, as you get into the head of both main characters). This story is about Duane and Jessica.
Jessica has had an unrelenting crush on Beau Winston since she was young – and equally antagonistic feelings towards his twin brother Duane. In a case of mistaken identity, Jessica is horrified to discover that the man she kissed in an impetuous moment backstage at a local Halloween concert wasn't her long time crush but was in fact her enemy. Duane however is not sorry at all, in fact, he's been dying for Jessica to see him as more than the pigtail pulling annoyance of her youth and realize that they have chemistry together. Now that Jessica has discovered that Duane is all grown up ,and in a good way, it's a dilemma for her – she's only in town to earn some money to travel the world and has no intentions of sticking around. Though Duane is thinking long term with Jessica, marriage and kids and the white picket fence, he's willing to make a deal with her – one year of an all in relationship, then a complete split with no contact when she moves on. But as Duane courts Jessica and they move on to a more intimate relationship, it's clear that someone's going to be hurt when their time is up. Can they find a way to get a happy ever after that will satisfy them both?
I really enjoyed this story (and truthfully I had high expectations for it, that were all met). It's sort of an enemies to lovers plot, except that Jess is the only one who has ever seen Duane as the enemy – he's had a crush on her for forever. Because of that crush, when she finally starts to see him as worthy of attention he's determined to go slow in the sex department. I really appreciated that thoughtfulness from Duane. Though he is very attracted to Jess and she'd be quite willing to hop into bed with him (once she's gotten used to the idea that it's Duane and not Beau that she's got this amazing chemistry with), he wants to show her that he respects her and sees her as a long term companion, not just a fling. And herein lies the dilemma, because Jess doesn't want to get emotionally involved. She has big life plans that involve seeing the world, and doesn't want to be tied down to one place. As a result, both of them have some major shifts in thought over the course of the story. But the one thing they eventually come to agree on, is that the only they way they're going to be happy is if they are together, no matter where that might be.
Besides the romance which weaves throughout the story, there is a very interesting subplot involving a local motorcycle club, one that the Winston brother's deadbeat father used to be a part of. Issues of loyalty and payback and blackmail all come into play and it makes for some great action scenes as it plays out. The other Winston brother's feature prominently in this part of the story, and we get some good glimpses of their character differences. I'm excited to see each of them getting paired up with strong and vibrant women in their upcoming stories.
Overall this story had a bit of everything – some tension and suspense, sexy scenes, sweet romantic interludes, annoying but understanding and supportive family and lots of laughs.
Book Info:

Publication: July 21 2015 | Caped Publishing | Winston Brothers #1
Beards, brothers, and bikers! Oh my!
Identical twins Beau and Duane Winston might share the same devastatingly handsome face, but where Beau is outgoing and sociable, Duane is broody and reserved. This is why Jessica James, recent college graduate and perpetual level headed good girl, has been in naïve and unhealthy infatuation with Beau Winston for most of her life. His friendly smiles make her tongue-tied and weak-kneed, and she's never been able to move beyond her childhood crush. Whereas Duane and Jessica have always been adversaries. She can't stand him, and she's pretty sure he can't stand the sight of her…
But after a case of mistaken identity, Jessica finds herself in a massive confusion kerfuffle. Jessica James has spent her whole life paralyzed by the fantasy of Beau and her assumptions of Duane's disdain; therefore she's unprepared for the reality that is Duane's insatiable interest, as well as his hot hands and hot mouth and hotter looks. Not helping Jessica's muddled mind and good girl sensibilities, Duane seems to have gotten himself in trouble with the local biker gang.
Certainly, Beau's magic spell is broken. Yet when Jessica finds herself drawn to the man who was always her adversary, now more dangerous than ever, how much of her level-headed heart is she willing to risk?
Series Description:
Everyone in Green Valley, Tennessee knows that the six bearded Winston brothers have been imbued with an unfair share of charm and charisma… and are prone to mischief.
Truth or Beard is book #1 in the Winston Brother's series. Each book is a standalone, full length (120k words), contemporary romantic comedy novel, and follows the romantic exploits and adventures of one of the six Winston Brothers.