Taking a Shot by Taryn Leigh Taylor: A planner, so much so that she researches and plans her one night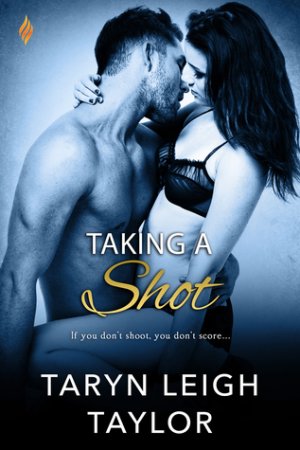 stand. The bad boy, who once traded from his NHL team, is determined to screw his head on straight and play the straight and narrow. One night, one unforgettable night is all it's going to be, right?
Chelsea London was tired of being the "good" girl. She had worked so hard to do everything so right and make sure that everything was just so and where had it gotten her? She didn't get the promotion that she was sure she would. She had a very staid relationship until he broke up with her for his TA. She needed one night. One really good "bad" night to let her live.
Brett Sillinger didn't mean to turn into the bad boy of hockey, but a cocky kid with no one to guide him? What happened happened and now he was paying for it. A divorce, a trade and now threats that if he doesn't keep his nose clean he was done. So sitting alone in his hotel contemplating his next steps when she shows up, one more night can't hurt, can it?
One night, one anonymous night, that was all it was supposed to be. What happens when that one night turns into more? What happens when fun and games turn into feelings and reality?
Ms. Taylor has gifted her readers with a book about romance and consequence. This novel takes the reader in from the moment you open the cover and keeps you wanting to turn the pages faster to learn more, while being sad that the pages are fewer. This isn't a hockey book or even a hockey romance though, while it does briefly touch it this is more a story about two people who have to figure out who they are and how they are moving forward. There are great twists throughout the storyline but the one near the end will make you want to get up and do something (after you finish the book that is). This is an outstanding novel and well worth a trip to one click land.

Book Info:

Publication: September 10th 2018 | Brazen |
Hockey star Brett Sillinger's never been afraid of a little trouble. But when his personal life ends up in the tabloids, he knows his career is on thin ice. Luckily, a new team decides to take a chance on him. All he has to do is keep head in the game. But when temptation walks up wearing black knee-high boots, looking for one night of nameless, no-strings passion, well, what's a guy to do?
Chelsea London is looking to misbehave. What's being good ever gotten her, besides getting dumped and passed over for a big promotion at work? But her one delicious night of rebellion has unexpected consequences–her hot one-night stand is the latest addition to her father's hockey team. And suddenly, one night of bad-girldom isn't nearly enough.
But one false move, and Brett might spend this season in the penalty box…