In Taking Fire (Shadow Warriors #7) by Lindsay McKenna, Marine Sergeant Khat is a black ops warrior deep in the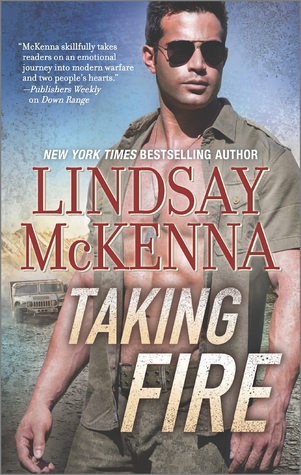 mountains of Afghanistan. Few know she's even there. Khat has her own reasons for doing what she does, and she is determined, brave and strong.
When Khat spots a small team of SEALs unknowingly headed straight for a Taliban ambush, she gets involved. Despite her handler's orders not to give away her position, she must take matters into her own hands to save them. Three of the SEALs manage to get to safety, but Mike is separated from them, injured and unconscious. Khat, who has a variety of skills important to what she is doing, rescues him, taking him into the cave she is hiding in.
Mike's awakening in the cave is a touch of humor in the seriousness of Taking Fire, and he is mesmerized by Khat. Scarred mentally and physically from what she has endured in the past, Mike sees beyond all that from the beginning. As he heals enough to be transported back to base, Khat takes care of him and the two of them feel, but don't act, on their attraction to one another. Khat is focused on her mission, and she doesn't believe any man will want her anyway due to her past. There is one man who does though…and when Mike Tarik gets back to FOB Bravo, he can't get her out of his mind.
When things start to change up for Khat and she sees more of Mike, she is torn between what she wants, what she feels like she deserves, and her mission. Mike knows he wants to be with Khat…and he's doing what he can to make that happen. They are both fighting for other people, but will they fight for each other? Or is the burden of what's happened in the past too heavy for Khat to get rid of and take the chance on change and Mike?
Taking Fire is fast paced, was easy to follow and easy to stay involved in. Mike and Khat are great main characters who complement each other even when they don't realize it. Khat is truly amazing, especially after all she has been through. She is so focused on doing right for others though that she has lost sight of her own self care. Mike sees this and does what he can in a subtle way to help her, but he doesn't try to strong arm her into doing anything. I liked how he was with her, his understanding even though he was concerned. He wants more with Khat, and he awakens desires within her. Even as the thought of trying to have more with Mike, scares her. They have fallen hard and fast for each other, but Khat is much more cautious. I liked how they tried to work through this, even when Khat just wanted to run away. The attraction and feelings between Khat and Mike happen fast, but they have so many things in common it is completely believable.
The setting for Taking Fire is all Afghanistan, and Lindsay gives great insight into military life in a plot that is powerful and very meaningful in today's world. Lindsay very obviously knows her subject, and this is well portrayed throughout Taking Fire from the romance to the battles they must face in the war torn country. I love how Lindsay writes. Her characters spring to life because of the believability she builds in them and the plot.
Lindsay explores cultural differences and what they mean, as well as taking us into the lives of some Afghani's, which adds a lot of dimension to Taking Fire. The characters in Taking Fire have enough inner conflict to set them apart from other characters in this series, and Taking Fire can be read as a stand alone although I recommend the whole series. The title of the whole series (Shadow Warriors) is so appropriate, especially for Khat and Mike's story.
Written in dual POV's to take us deep into the characters minds, Taking Fire is a military romantic suspense and I'd recommend it to any romantic suspense reader.


Book Info:

February 24th 2015 by HQN Books | (Shadow Warriors #7)
She dances on the edge of life…and death…
Not all are meant to walk in the light. Marine Corps Sergeant Khat Shinwari lives among the shadows of the rocky Afghani hills, a Shadow Warrior by name and by nature. She works alone, undercover and undetected—until a small team of US Navy SEALs are set upon by the Taliban…and Khat is forced to disobey orders to save their lives.
To go rogue.
Now, hidden deep in the hills with injured SEAL Michael Tarik in her care, Khat learns that he's more than just a soldier. In him, she sees something of herself and of what she could be. Now duty faces off against the raw, overwhelming attraction she has for Mike. And she must decide between the safety of the shadows…and risking everything by stepping into the light.