Taking on the Billionaire by Robin Covington is a sexy romance between a private investigator and the businessman who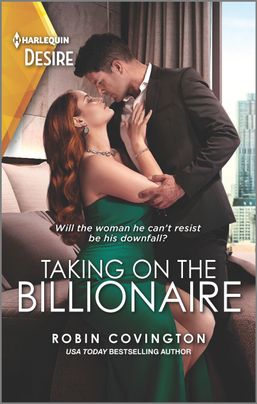 hires her, and is the first in her Redhawk Reunion series.
Adam Redhawk hired Tess Lynch to find his brother and sister, torn apart when they were children and sent to different adoptive homes as part of horrible child welfare policies that separated indigenous families at the time. She succeeded, bringing Adam in touch with his brother Roan and sister Sarina, but Adam isn't ready to part ways with the sexy PI just yet. He's got someone at his successful tech company who is trying to sabotage him and he wants to find out who, and why. In truth though, he's interested in Tess for more than just business.
Tess has an extra incentive to stay on Adam's payroll. Besides finding him sinfully attractive, she's on a mission of revenge. Adam's adoptive father, Franklin Thornton, ruined her own father and destroyed her childhood. She's using her business arrangement with Adam to find out the information she needs to take down his father. A sexy affair between her and Adam ensues but when he finds out her real motive, will their fiery passion burn out?
I loved this story! The author brings the heat in some very steamy scenes as Tess and Adam explore their attraction to each other. But it's the characters and their developing feelings for each other as well as their emotional struggle that really elevates the story. Adam is of Cherokee descent and since he was six when his family was separated, he's the one with memories of his younger siblings and their parents. Reaching out to them is a fraught enterprise and Tess is there to help him reunite with them. His younger brother Roan is more receptive, while Sarina, who had bad foster home experiences is more closed off. I appreciated the author bringing this real tragedy that occurred far too many times in North American indigenous families to light.
As for Tess, she ended up taking care of her younger sister (now a college student) due to the early deaths of her mother and the depression that stole her father. She blames Franklin for ruining her father by cheating him in business and sending him into a downward spiral, and she knows Adam is the 'in' she needs to bring him down. As she starts to develop real feelings for Adam, she feels guilty about her deception. And eventually Adam finds out the truth. They have to go through some rough patches (including the discovery that Tess is pregnant!) before they get their happy ending.
Adam has a best friend, Justin, who is also his business partner and I enjoyed their friendship. I also liked seeing Adam initiate the reconciliation with Roan and Sarina, and the series will continue with more of the Redhawk siblings. This an emotional, sexy, engaging story and comes highly recommended.

Book Info:

Publication: Dec 01, 2020 | Harlequin Desire | Redhawk Reunion #1
Investigator Tess Lynch once helped Adam Redhawk find his Cherokee family. Now the self-made tech billionaire wants her to root out his company's saboteur—and share his bed. But as passion builds between them, the private eye pursues a plan of her own—to get even for the way Adam's adoptive father ruined hers. Until an unexpected pregnancy changes everything…