In Talk Bookish to Me Kate Bromley, Bestselling romance author Kara Sullivan should be used to having strict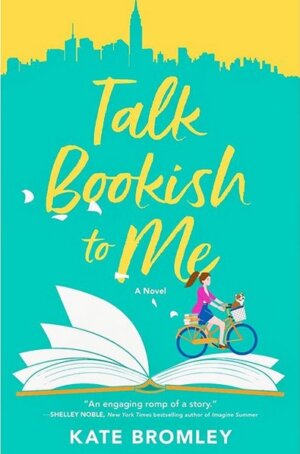 deadlines for her books. Normally it isn't an issue. The words flow and the characters (usually) cooperate with her. But not with her new historical romance she's been trying to start for…a while now. Go figure that it's when Kara sees her ex-boyfriend from college, Ryan Thompson, for the first time in a decade that she has ideas for her novel popping into her head. She's not sure if it's her anger over how things ended between them or if it's the spark of attraction that still exists. Either way, Kara knows Ryan could be the unfortunate key to solving her writer's block.
'Ryan is back and so are the ghosts of our relationship, twitching and howling as they claw to the surface after a ten year sleep.'
As Kara holds up her end of the bridesmaid duties for her best friend Cristina's wedding and tries to simultaneously work on her book and ignore too-handsome-for-his-own-good Ryan, it all threatens to blow up in her face. The thing that worries Kara the most is that she'll end up getting her heart trampled on all over again if she gives in to the obvious feelings she and Ryan still have for each other. But surely in ten years they've both grown emotionally, right? One can only hope. Especially when it becomes clear that before either of them can completely let the past go, Kara and Ryan have to give it one more try.
"I'm offended. Here I thought I was so smooth back in my heyday."
"Unfortunately not. Even in my favorite memories of you, you were only partly charming."
A playful grin crosses his face. "That's fair. In my favorite memories of you, you were only partly clothed, so I guess we're even."
Talk Bookish to Me was every bit as charming as the title suggests. The witty banter, quirky-but-cute characters, and love story that spanned a decade added up to make a rock solid debut from Kate Bromley.
'When he's with me, my writing runs riot. When he's gone, it all stands still.'
Trigger warning: View Spoiler »cheating. « Hide Spoiler
As a fan of second chance romance and enemies to lovers tropes, the fact that Talk Bookish to Me combined them both into one story was a win-win. On top of that, Kate Bromley had a fab writing style that was filled with quick and hilarious dialogue, as well as our heroine Kara's seriously entertaining inner monologues. Bromley's prose had an almost comedic edge to it that literally had me smiling–if not outright laughing–almost the entire time. (It didn't hurt that she also included some humorous scenes with our hero Ryan's roly poly bulldog Duke.)
Kara was an interesting mix of being a completely modern woman who also basically had an old soul. She mainly wrote historical romances–and we got to see some chapters from her current work in progress as they were sprinkled throughout the book. Kara seemed like she felt emotions very deeply. Which meant that past hurts stuck with her for a long time. Including what happened between her and Ryan back in college. I really loved the fiery back and forth between Kara and Ryan. (As well as Kara's fun interactions with her friends & family!) It started off antagonistic between them where things didn't end well about a decade ago, but then it morphed rather quickly into sexy flirting and teasing.
It was when things got steamy between Ryan and Kara–and when real life butted back in–that it got super complicated. I won't rehash what happened. I will say that I had been almost speed-reading until towards the last quarter of the book, when something Ryan did threw me for a loop. I had to put my kindle aside in anger, to be honest. But don't worry…thankfully it all ended in a much better place than I was expecting. So much so that I think readers will finish the final page with a happy sigh, even if we might have made a different choice than Kara did.
Split between two exciting settings: NYC and Italy, Talk Bookish to Me has me hooked on Kate Bromley's expressive writing. I can only hope that her next novel will again have the same magical combination of whimsical characters and genuine emotions.
Book Info:

Publication: Expected publication: May 25, 2021 | Graydon House |
Inspiration can come from the most unlikely—and inconvenient—sources.
Kara Sullivan's life is full of love—albeit fictional. As a bestselling romance novelist and influential bookstagrammer, she's fine with getting her happily-ever-after fix between the covers of a book.
But right now? Not only is Kara's best friend getting married next week—which means big wedding stress—but the deadline for her next novel is looming, and she hasn't written a single word. The last thing she needs is for her infuriating first love, Ryan Thompson, to suddenly appear in the wedding party. But Ryan's unexpected arrival sparks a creative awakening in Kara that inspires the steamy historical romance she desperately needs to deliver.
With her wedding duties intensifying, her deadline getting closer by the second and her bills not paying themselves, Kara knows there's only one way for her to finish her book and to give her characters the ever-after they deserve. But can she embrace the unlikely, ruggedly handsome muse—who pushes every one of her buttons—to save the wedding, her career and, just maybe, write her own happy ending?
"A fun and sexy romp, with chemistry that gave me all the feels!" —Jennifer Probst, New York Times bestselling author of Our Italian Summer
"Add this book to your TBR list immediately!" —Sarah Smith, author of Faker