In Taming the Country Star by Margo Bond Collins, Kylie Andrews is not happy to learn that country star Cole Grayson is in town. When she had a holiday affair with him in Mexico she was happy, until she found out he had been lying to her about his identity. And ever since she has been avoiding anything to do with him, be it a song on the radio or a poster of his, but now she can no longer hide.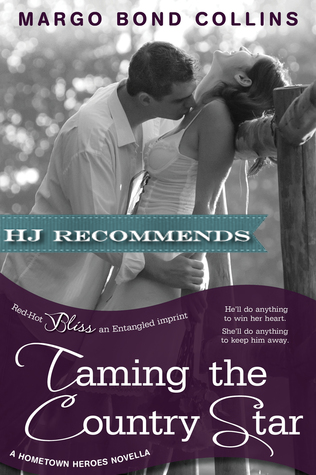 Close Grayson is on a mission to get Kylie back, he made a mistake by not telling her his real identity, but he also had his reasons for hiding. But a zealous reporter had to find him and Kylie in a compromising position when he took his picture, which just made Kylie run even faster. Since the moment she left him he has been unable to forget her. He remembers her telling him that she had a little shop in Fort Worth, the town he is in now, and he will not stop until he finds her. He even wrote a song just for her, and now he just needs to convince her that he is not the player she believes him to be.
Kylie doesn't want to go to the concert or see Cole in any way, but when her best friend shows up with an extra front-row ticket, she knows that she can't let her down. Only once there, she can't seem to forget all he made her feel when they were together. Then when his eyes meet hers and he sings the song he wrote just for her and even approaches her, she doesn't believe a word of what he is singing to her and she runs out of the concert.
Well you know that things are going to get complicated from there. Kylie will not give an inch very easily, and Cole will not give up easily either. But you have to understand that she has trust issues thanks to her father, the only bad thing is that she is transferring them to Cole now. So Cole will have to work very hard to get her to give him a second chance. Then there is a reporter that will make things even more complicated for them. But don't worry, Cole has a few plans on how to get around him, even if he will make both Kylie and you laugh when read about what he does.
I loved this story, its short, sweet and fun, a perfect summer read. I know many would have liked it to be longer, but it just made me want more books from Margo Bond Collins. I hope you like it too.
Book Info:

June 16th 2014 by Entangled: Bliss
He'll do anything to win her heart. She'll do anything to keep him away.
Country star Cole Grayson is in town, and Kylie Andrews is less than thrilled. As if months of changing the radio station and tearing down his posters werent bad enough, now she has to deal with a town of fans swarming toward the man who deceived her the year before. But when Kylies eyes meet Coles again, she cant deny the electric chemistry that drew her to him the first time around.
Cole Grayson is on a mission. Ever since Kylie left him, he hasnt been able to forget her sweet country smile. After writing a song just for her, he sets off for her hometown to prove hes not the player she thinks he is. But as much as Cole can't forget her, Kylie wonders if she can forgive him