In Breaking All Her Rules by Maisey Yates, Financial advisor Grace Song has had a horrible day. Not only did her last client hit on her during their meeting, repeatedly, but she's now going to be late for her next meeting back at the office. So when a NYC cab finally stops for her, she doesn't mind sharing it with the gorgeous cowboy inside. Zach Camden's charm quickly begins to work its magic on her icy attitude. So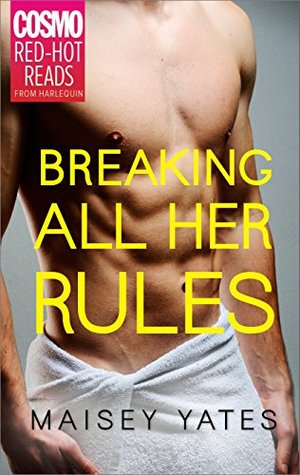 much so that she almost hates to head in to work.
"I think I need to cut loose." Her eyes met his again. "Got any ideas?"
"I do. But I'm a stranger and I'm pretty sure none of the ideas I have are appropriate for strangers."
"We shared a cab," she said, a desperate light in her dark gaze now.
"Well, then, I guess that changes things. Kiss me."
Grace gets her chance to meet Zach again when she realizes she must have grabbed his cell phone by accident and tracks him down. Her moral compass gets frazzled seeing him again, allowing her to make decisions she would never in a million years dream of…like sleeping with the handsome stranger. More than once. And subsequently falling for him when there's little hope of making it a long term commitment.
'This wasn't about changing things, or finding deep feelings. It was about letting go, exploring this completely unknown level of chemistry. That was all.'
Breaking All Her Rules is a fast and flirtatious Cosmo Red Hot Reads novella by the one and only Maisey Yates.
Every time I read one of these short stories I know I'm in for a super hot romance, but the rest of the plot remains to be seen. This time around, we get two very different characters, both of whom were searching for their place to belong and for something that would make them feel content. I thought the premise behind Zach and Grace's chance meeting by sharing a cab and grabbing the wrong cell phones was a nice place to start a romance. The complex feelings and intense love scenes that followed were just a bonus for us readers.
Zack's grief was very apparent as he opened up a little bit to Grace. I felt myself wishing he would let her in and allow some happiness into his life. It was interesting to see how different he was from the lazy cowboy persona he showed the world. I won't get into details so I won't spoil it for you. But Zach and Grace did have amazing chemistry, which was fun to behold. Especially since she would normally never let herself have a casual fling as she was too worried about always doing the right thing. It was nice to see her loosen up for a while.
If you like steamy romances with a lot of soul searching and a wide range of emotions, check out Breaking All Her Rules.
Book Info:

Published August 12th 2014 by Cosmo Red Hot Reads from Harlequin
Buttoned-up financial consultant Grace Song lives life by her own strict rules. Spontaneity leads to chaos. Always play it safe. So when she shares a Manhattan cab with a handsome stranger and they accidentally swap cell phones, her first instinct is to track him down and put things right. Stay on track. Stick with the plan.
But when beyond-gorgeous Zack Camden answers the door draped only in a towel, Grace is suddenly inspired to ditch her rules for a day…and a night. Indulging in one delicious encounter with a perfect stranger is just the break she needs. But one turns into two, then three mind-blowing nights—and soon Grace is in danger of breaking the biggest rule of them all—never fall in love….