In The Texan's Cowgirl Bride by Trish Milburn, Savannah Baron loves to ride in the rodeo, but if she wants to fulfill her dream of making The Peach Pit from a roadside stand to a country store she will have no more time for it. But when she discovers something scary on her body, and can't answer some of the doctor's questions, she knows that it's time to find her long-estranged mother to get them answered.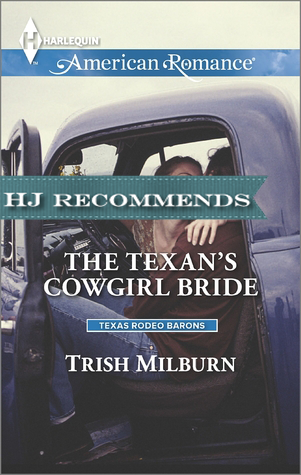 Travis Shepard is a soldier turned private investigator. After the tragic death of his wife, Travis believed that he would never be able to move on or love again. But when Savannah comes to him for help in finding her mother, he knows that he has to help her. There is something more that is bothering her, but unless she opens up she will not be able to find the peace or support she needs.
When Savannah tells Travis about her health scare, he is also scared. Until the test results come back, her life could change a lot. So he offers to be her support and help her find her mother, and keep both things secret from her family. But staying away from her will become more difficult the longer they are together, and Travis can't seem to stay away. Even if his excuse is her delicious peach pies she sells at The Peach Pit.
Like we all know, chemistry cannot be ignored for long, as Savannah and Travis will soon learn. But they will first have to get past a few obstacles that will be in their way. For love comes when they least expect it, and Travis is not ready to move on, at least he believes he is not. And Savannah has a to get past her father to move on with her pet project, past her sister and her objections of finding their mother, and wait for the test results from the doctor. And while she thinks that things are great between Travis and her, things will get complicated fast when Travis begins having doubts, which he will have to pay for really hard.
The Texan's Cowgirl Bride by Trish Milburn is a sweet, heartwarming read that will have you feeling for Savannah the entire time, as well as cheering for her and Travis to get past their problems and find their HEA.
Book Info:

Published July 1st 2014 by Harlequin American Romance Series #1506
SHE WASN'T LOOKING FOR LOVE
Savannah Baron is determined to turn The Peach Pit from a simple roadside stand on her family's Texas ranch into a bustling country store. She's too busy with her business to even enter many rodeos anymore, let alone date. But when a health scare prompts her to search for her long-estranged mother, she discovers more than a helping hand in an old friend.
Soldier-turned-private investigator Travis Shepard never thought he'd move on after his wife's tragic death, yet with Savannah, the walls he built around his heart begin to crumble away. But Savannah still faces a medical crisis and Travis can't bear the idea of losing anyone else. Can he find the strength to love again?