Taming the Tango Champion by Cait O'Sullivan: Ava is a single mom, not the easiest job in the world. She loved her little girl more than the world though and though it hadn't worked out with her father, who didn't know she existed, she had lots of love for that little girl. Going back into the working world, especially when she was in television wasn't going to be easy for Ava though and she knew she was going to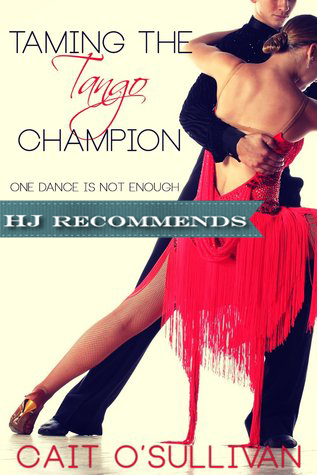 have to work hard.
Matthias was a champion dancer, the Tango his specialty. He was also a rancher and in love or at least lust with the young woman who had walked away. He knew he had to see her to get her out of his system, or at least understand why she had walked away from him.
So what happens when you put Matthias, the father, and Ava, the one who walked away, in the same room together and then make them work together for six weeks? That's right explosions especially when secrets are revealed. The question is will learning the truth be enough? Can this family come together as one?
Sex on a stick, are you familiar with that phrase? That was the phrase that kept rolling through my brain the entire time reading this book. Matthias was all of that. Yes he wasn't perfect but I think if he had been he would have lost some of that amazingness that shone through. Between his character and Ava's there wasn't really need for more. The secondary players in the story were well written but not overdone as the story really focused on Matthias and Ava.
The plot was incredibly believable and for anyone who watches Dancing with the Stars it was interesting to start to wonder if any of those couples had the same or similar issues. In the final scene, which I won't spoil for you, other than to say have your tissues handy, it was so real and I don't know if it was the story that had me believing or not but it was very real and very perfect.
This is definitely a story I would read again and am suggesting to my friends for not only it's ease of read but for it's truth, realness and the right mix of sex, love, romance and of course family.
Book Info:

Publication: July 7th 2014 by Kensington
One dance is never enough.
London TV presenter, Ava Whittaker, has a baby by twice-former Argentine Tango Champion Matthias de Romero. The problem? He doesn't know. Fast forward two years and Matthias is the judge on a new dance show where Ava is a contestant. But time hasn't healed the wound of discovering he was engaged during their tryst whilst on holiday in the Andes, and although she's still in love with Matthias, she carefully guards her secret…and her heart.
Still in search of answers on why Ava walked out on him while staying at his ranch two years ago, Matthias takes a place as a judge on To Dance or Not to Dance. But seeking answers only creates more questions for Matthias