Tangled Up In Christmas by Lisa Renee Jones: Hannah is a talented photographer who is moving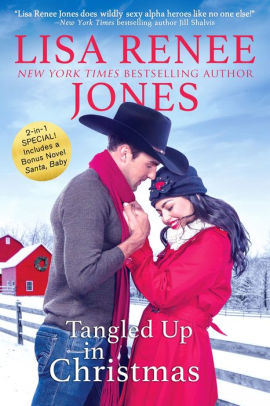 back to Texas. She's ready to start over with a new perspective and new event planning business. She's smart, creative, sweet, and sassy. Roarke was once her best friend and her fiancé. They grew up together and it seemed like for one summer they had it all.
Roarke is now a celebrated horse wrangler known for taming and healing even the most temperamental or damaged horses. He's a YouTube sensation and also a really good vet. Between traveling to the horses who need his expertise or treating the horses and other animals locally, he's thrown himself into his work since losing Hannah.
Roarke and Hannah haven't seen or talked to each other since their break-up. Hannah was in no way ready to face her past or Roarke when she moved back to Texas. Avoidance suited her just fine until she literally collided with him. Roarke is pretty clear that he's very interested in a second chance and won't give up easily.
"Go, Roarke. That's what you told me years ago. That's what I'm telling you now. Go. Because it's what's right for you and me. And you're holding my hand."
"Yes, I am, and I don't want to let it go."
"But we both know you will. Just like you did before."
Avoiding him is no longer an option when Hannah agrees to plan a Christmas Festival in their hometown. It doesn't help that the chemistry that brought them together in the past is as strong as ever. They quickly find their rhythm in working together again and she re-discovers how much she loved helping him with his horses. If they could learn to trust in each other and reveal their secrets, they could have a shot at forever.
"We're not back together," Hannah explains quickly. "We're-"
I cross my arms in front of my chest. "Go on. We're what?"
She scowls at me. "Not getting along."
Tangled Up in Christmas is sexy, sweet, and heartwarming. Lisa Renee Jones provided great friendships, family, secrets, lies, conflict, and heat in this second chance holiday romance. Ms. Jones provided an entertaining cast of characters in a small town where everyone knows your business. Tangled Up in Christmas can be read as a standalone in the Texas Heat series. Fans of Melissa Foster and Kelly Elliott will enjoy Tangled Up in Christmas.
Book Info:

Publication: October 29th 2019 | Entangled: Amara | Texas Heat #2
I might be a country girl from the same small town of Sweetwater, Texas, as horse wrangler Roarke Frost, the girl next door who knows him like few know him, but I didn't know enough to save my heart.
He's the reason why I left Sweetwater behind.
But now fate proves she loves a wicked twist and sends me back to Sweetwater to pull together a Christmas festival—and I run smack into the man again, quite literally. His body is pressed to mine, his hands on my arms, and I'm melting like chocolate in the sizzling Texas sunshine. And I run.
I know it's not exactly respectable, but it works, just not for long. No matter how much I try to get tangled up in Christmas, I end up tangled up in Roarke instead—and the man has me feeling the heat of our attraction and the warmth of our past friendship. He feels like Mr. Right, but history says he's Mr. Wrong.
But if he wants a second chance, Roarke Frost is going to have to work for it. He'll need to prove to me that this holiday is a season of new beginnings, the kind that last forever.