Today it is my pleasure to Welcome author
Anna J Stewart
to HJ!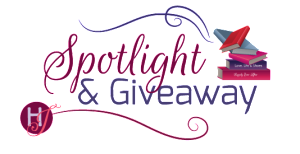 Hi Anna and welcome to HJ! We're so excited to chat with you about your new release, The Firefighter's Thanksgiving Wish!

Hello again!! Thrilled to be back.

Please summarize the book for the readers here: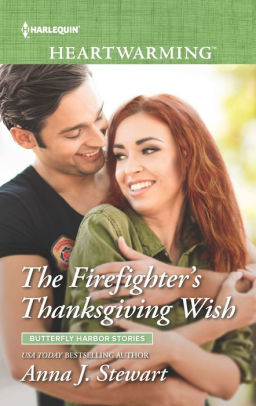 Butterfly Harbor firefighter Frankie Bettencourt is passed over for fire chief in favor of an outside: Roman Salazar, a man who sees the job as the next rung on his way up the professional ladder. While Frankie deals with the disappointment and fallout, Roman's about to get a serious education on the pros and cons of a small town…even as he wins everyone over. Including Frankie.

Please share your favorite line(s) or quote from this book:
This was one of those books when the humor, the banter, and the snark was really fun to write, and it came naturally for both of the characters. Case in point:
"Snotty doesn't work with me, Frankie."
Frankie's mouth twisted. Yeah. It didn't work with her, either.

"Splat!"
"Got it. We'll call you Splatman from now on, okay?"
"O-kay!" Roman gave her a thumbs-up as his eyes began to droop. Yeah, he'd be out for the count any time now. (you'll need to read the book to find out where that nickname comes from <G>).
Please share a few Fun facts about this book…
Originally it was Frankie's twin brother Monty who was going to be one of the town's firefighters. Then I realized how completely predictable that choice was, and how boring. Frankie was supposed to own and operate a tour boat business. As soon as I flipped it, the rest of the story fell into place immediately.
I was just beginning to write this story when I attended my high school reunion (an event I'd passed up attending many times before). This time, I went. And I reconnected with an old friend who is a lieutenant with the San Francisco Fire Department. Christina became my go-to for any and all firefighter related questions and she was great about it. I've dedicated the book to her. I needed to make sure I was one hundred percent accurate with how I portrayed firefighters and she made that possible.
The original title of this book was Under the Mistletoe, but for whatever reason, my publisher made the change and I got my first Thanksgiving romance. I think it's now my favorite holiday to write about because it's so family-centric and writing families and communities is my favorite thing to write.
What first attracts your Hero to the Heroine and vice versa?
I think for both, it's how they're going to face adversity, aka, the conflict they'll be dealing with.
It's different in every story I write, but with Frankie, I liked the idea of diving into the very topical arena of women being passed over for jobs in favor of men and how that can affect how they do that job. For instance, the one line I quoted above, about snotty not working for Roman. And this was one of those things Christina told me about when I was asking her questions: the politics of the job can't matter; not in a job like firefighting when lives could very well be on the line. The job is what matters. Title, promotions, they fall by the wayside if they're in the profession for the right reason. That's the connection I needed to make for Frankie.
As far as what attracted me to Roman? Well, his name pretty much says it all. He's definitely a testosterone-fueled hero, but he's also a family man who find himself back in his mother's focus when she comes to town. I like playing with perceptions: here's this big, strong, semi-alpha man who can be intimidated by his mother. Also for him, coming from a big city where budgets are larger and politics are…different, having to deal with the ins and outs of a small-town was really interesting. The more I get to puzzle out about my characters, the more fun I have.
Did any scene have you blushing, crying or laughing while writing it? And Why?
Anytime I get to let the townspeople (and previous main characters) interact in the new stories is a good time. Soon after Frankie learns she didn't get her promotion, she drowns her sorrow at the diner with one (or more) milkshakes:
"Hit me again." Frankie motioned to the empty milkshake glass before slouching on the Formica countertop at the Butterfly Diner.

"Must be pretty bad if you're going for number three." Holly Saxon, diner owner, pie goddess and town confidante, glanced over at the corner table where her recently turned ten-year-old son Simon was busy rocking his new brother and sister gently in their carriers.

The sound of baby giggles and goofball antics managed to lift Frankie's spirits. A bit.

"You want to shake things up this time?" Holly offered. "Cookies and cream, maybe?"

"Nope. Keep the chocolate coming. Extra syrup. Extra—"

"Whipped cream. Not my first wallowing. What's going on?" Frankie glanced around the diner, or gossip central, as it had long been called. Well, this and the hardware store. Funny how women unloaded information over sugar and carbs while men tended to opt for power tools and epoxy guns. Personally she would prefer the tools, but today she needed the cheerfulness of the orange-and-black color scheme dedicated to the town's namesake monarch butterfly.

"No one here to hear you. Other than Ursula." Holly leaned over and dug deep into the double chocolate chip fudge ice cream. "More?" she asked, holding the syrup container over the chrome blender cup.

Frankie waved her hand in a circle.

"You're going to need an insulin chaser after this." Holly shook her head and set the concoction to blend. She did a quick pass through the diner, topping off coffee for the three stragglers from the late lunch crowd. "So." She retrieved Frankie's glass, refilled it and joined her. "What's going on?"

"I didn't get the job." Frankie sucked hard on the straw, welcoming the piercing pain of an ice cream headache.

"The chief position?" Holly looked as shocked as Frankie had felt upon hearing the news. "No, that's not possible. At the last town meeting—"

"We thought it was a done deal? Yep." Frankie drank more. And then more. Her teeth began to freeze. "Me, too." She winced, pressed a hand against her belly. "Ugh." Maybe the third shake had been a mistake.
Readers should read this book….
if they're looking for a fun, funny, community-focused romance. I suppose that can be said about most of my books, but this one in particular is a bit of a lighter read than some of my previous releases. Especially my recent releases.
If you like laugh-out-loud moments and crazy, comical secondary characters, and reading about two strong personalities finding their way to happily ever after, and during Thanksgiving and the holidays no less, then this is the book for you.
What are you currently working on? What other releases do you have in the works?
I'm currently writing a Valentine's Day novella called Table for Six, which will release in the boxed set BE MY HEARTWARMING VALENTINE. Cora and Giovanni's story isn't quite what I expected it to be; it's about to people still grieving the loss of their spouses, who find their way into each other's lives–thanks to some matchmaking busy-bodies.
Then I'll be writing Monty's Butterfly Harbor book (Frankie's twin brother). This is my first runaway bride romance and I'm so excited to write it! Another one that's going to be more fun and funny than angst ridden, which is just fine by me.
My next Harlequin release will be in April. A MATCH MADE PERFECT is Sebastian Evans' story–the town bookstore owner and single father to a teenage girl. He's about to be reunited with his daughter's mother, especially if the said daughter has anything to say about it. I love getting to play with the Parent Trap idea.


Thanks for blogging at HJ!
Giveaway: 1-$10 Amazon gift card (one winner)
3 e-copies of HOLIDAY KISSES, a Butterfly Harbor Christmas romance (Calliope's story). (3 winners; their choice of format)
To enter Giveaway: Please complete the Rafflecopter form and Post a comment to this Q:

As this is a Thanksgiving book, I'd love to know what holiday traditions you look forward to with your friends and family? Probably my favorite one is that when the turkey (or whatever) goes in the oven, we start putting up the Christmas tree! (yes, I'm an early decorator, LOL).
Excerpt from The Firefighter's Thanksgiving Wish:
One of the recurring groups of characters in my Butterfly Harbor books is the Cocoon Club–a collection of senior citizens who, frankly, cause more trouble than anyone else. Case in point, calling Frankie when they get into a jam (disclaimer: Dwayne is the name of Frankie's rescue SUV–named after The Rock, her favorite action hero).

"I've got this," Frankie told him as she sprinted outside to the SUV.

"Hang on. Aren't you suiting up?" Roman shoved his feet into the pants puddled over steel-toe work boots and dragged them up by the suspenders. He had his protective jacket and helmet on before Frankie returned. "And fifteen minutes? That's a long—"

"Chief—"

"The dispatcher said a Tom Thursday's been stranded at the homestead. What if he's hurt? Regulations state we go full gear, in the engine." He grabbed his tank and mask, hefted it with him into the engine. "And what about volunteers?"

"Ah, we don't really need—" Frankie arched a brow when he glared at her. "Okay." She let out a sigh and nodded. "You're the chief. It's your call. You want volunteers, we'll get some volunteers. One second." She pulled out her cell and tapped the screen. "You sure you want—"

"Regulations, Captain," Roman snapped.

"Right." She gave him a sharp nod. "Whatever you say, sir." Seconds later, she was suited up and sliding behind the wheel of the company engine.

"Where are we going?"

"Not far." She motioned to the laptop situated between them. "You can pull up the map if you want to get an idea."

"Lights and sirens?"

Frankie grabbed his hand when he reached up for the switch. "Sir, there's more than regulations to consider in situations. And there's more than unpredictability. There's also, let's say, a code for calls like this."

Roman leaned into the turn she made on Monarch Lane. "A code?"

"Yes, sir. Like a shorthand for those in the know."

Roman didn't miss the dazed expressions on people's faces as they drove down the main street of town. "They look as if they've never seen a fire truck before."

"Honestly? They don't a whole lot. For most of the calls we take Dwayne. The SUV's faster and more maneuverable. Especially—" she glanced at him with what he swore was an amused glint in her eyes "—for Tom Thursday." She looked down at her phone, which was blinking and buzzing with responses from their volunteers. "I've got Kendall, Ozzy and Kurt Murphy on their way. They'll suit up at the station, grab Dwayne and meet us at the call."

"That should be enough of us," he said.

"Yes," Frankie muttered. "Yes, it will."

Roman brought up the map as Frankie made another turn and headed them down the road parallel to the freeway. The radio crackled with static and the echoes of other calls going out to departments in the area. Roman kept half an ear open and tried to get a bearing on his surroundings. He'd already taken all of Saturday to drive extensively around the area. He wanted to see it firsthand, in the daylight, for those times Frankie wasn't around to guide him. He needed to know every corner of Butterfly Harbor.

"So this Tom Thursday." He'd had to have been blind to miss that quirk of Frankie's full lips. "I haven't met him yet, I don't think."

"No, I don't suppose you have. He only pops up around this time of year. Thanksgiving and Christmas. New Year's, too." She hit the turn signal and waited to drive into a large parking lot across the road. "Look, Chief, I know you're trying to make a good impression, but honestly—"

"Is that him?" Roman cut her off when he spotted an elderly man with a walker waving a white handkerchief in the air. He was surrounded by a familiar-looking group of older folks, most of whom he recognized from the other morning in the diner.

"In a manner of speaking." Frankie shook her head and maneuvered the truck in front of the group huddled together by the front door of the Homestead Pack & Sack. "Chief, wait, don't—"

Roman shoved out of the truck, ignoring Frankie's clutching hand as she reached to grab him. "Mr. Thursday?" Roman pushed his helmet onto his head and strode over to the group. "Which one of you is—"

"Land's sake, what's all the fuss about? Is Dwayne in the shop?" A slight gnome of a woman with bright tangerine hair walked past him to the truck, a wicker purse tucked into the curve of her arm. "How are we all going to fit in there?"

"Ah, ma'am?" How indeed? Roman's stomach dropped to his toes as heat surged to his face. "Ma'am, please be careful." But he wasn't quick enough to stop her from ducking around the still-open door and peering inside the cab.

"Hello, Frankie," Myra said. "Ain't room in here for more than three of us. Maybe four. Oscar, you and Harold might have to wait for backup."

"Ma'am?" Roman tried again.

"Look at him, all dressed up." A rotund woman with what looked like turkey feathers sticking out of her bobbed white hair circled him like a shark. "Isn't that a picture? Oh, yes. Penny, take our picture. I want to put it up on that InstaFace Frankie helped me set up."

"He is a sight, that's for sure, Polly." Penny—at least Roman supposed that's who she was—began digging around in a bag Mary Poppins would be proud of and crowed, "Get on over by him, too, you lot. This will look great on our bulletin board. Does he dance? Do you dance?" She beamed up at him, hope twinkling in her eyes.

"All right, you guys." Roman blinked dazedly at Frankie as she dropped out of the truck and joined them. She'd ditched her jacket and helmet, one suspender looped over her shoulder, the other hanging free. "You all know very well the new chief isn't up on our secret code."

"Thought you'd have filled him in on that by now, Frankie." Penny fluttered heavily mascaraed eyes at her phone as she moved it in and out. "Can't say I'm disappointed to see him in the flesh, so to speak. I can't get this darned thing to focus."

"You have it on selfish mode." The balding old man with a death grip on his walker leaned so far forward Roman wondered if there was about to be an emergency after all.

"Guys!" Frankie stuck her fingers in her mouth and whistled. "I know he's nice and shiny, but focus. What happened to your ride?"

"Darned grandson of mine," the tall, gangly man with slicked-back hair and a Marines Kick Butt T-shirt grumbled. "He got called into work just when we were picking out our turkeys at the store. He just up and left."

"We told him we could get another ride. And here they are. But Myra's right." Penny frowned at the fire truck. "Don't see where there's room for all of us."

"Uh, Tom Thursday is—" Roman's voice sounded dazed even to him.

"Their Thanksgiving turkey." Frankie patted his arm as she shooed the women away as if they were teenagers entranced by their favorite boy band.

"We got two birds this year," Myra announced. "So the men would stop fighting over the legs."
Silently, Roman groaned. He was never going to hear the end of this, was he?
Excerpt. © Reprinted by permission. All rights reserved.


Book Info:
They both know it's true. Where there's smoke, there's fire!
Working with the new fire chief, Roman Salazar, is a challenge for Frankie Bettencourt. Everyone in Butterfly Harbor agrees she was the one destined for the top job at the station house! So, should she quit? No way! But she will steer clear of Roman from now on…or at least until his kindness, quick smile and can-do attitude win the town—and possibly Frankie—over for good!
Book Links: Amazon | B&N | iTunes | kobo |


Meet the Author:
USA Today and national bestselling author Anna J. Stewart writes sweet to sexy romance for Harlequin's Heartwarming and Romantic Suspense lines. Early obsessions with Star Wars, Star Trek, and Wonder Woman set her on the path to creating fun, funny, and family-centric romances with happily ever afters for her independent heroines. A former RWA Golden Heart nominee and 2018 Daphne DuMaurier finalist, her Heartwarming book RECIPE FOR REDEMPTION was recently optioned for a TV Movie and will air on UPtv November 24th as A CHRISTMAS RECIPE FOR ROMANCE (on UPtv). Anna lives in Northern California where she deals with a serious Supernatural , Sherlock, and Jason Momoa addiction and surrounds herself with friends and family. When she's not writing, you can find her at fan conventions, at her local movie theater, or building her client list for her content editing services. You can read more about Anna and her books at www.authorannastewart.com.
Website | Facebook | Twitter | Instagram | GoodReads |