Tanner by Sarah Mayberry is the first in the American Extreme Bull Riders Tour series, a multi-authored set of romances that looks at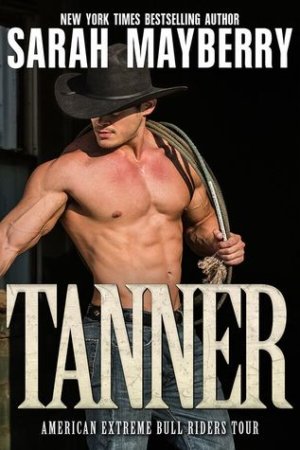 the life of rodeo cowboys who participate in this extreme sport – and the women who lasso them in. While the theme of the series isn't something that normally peaks my interest, I have very much enjoyed all the books I've read by this talented author in the past. I trust her to take a new-to-me topic and weave it into an entertaining and sexy romance and she has definitely succeeded here.
Australian vet student Evie Forrester knows that showing up out of the blue to surprise her 'sort of' boyfriend Troy on his American bull riding rodeo circuit tour will either cement their fledgling relationship or dash her hopes of long term commitment to the ground. It turns out to be the latter when he's found to be otherwise engaged with a 'buckle bunny'. Fortunately, another cowboy, Tanner Harding, shields Evie from being discovered by Troy to at least partially mitigate her embarrassment at being so wrong about her childhood crush and family friend.
Tanner can't help but feel sympathy for Evie who has had her hopes dashed (her heart bruised, but clearly not broken) and now is trying to find a way to return home to Australia with Troy none the wiser about her unexpected visit. Realizing she has no friends or family here, and not much extra money to speak of (having thought she'd stay with Troy), his protective instincts kick in and he insists she stay with him while she's sorting out her return tickets. Evie is a delightful young woman, and he can't help but be attracted to her. And the feeling is very mutual. One thing leads to another, and with the knowledge that Evie will leave soon, they both feel free to indulge in some mutually desirable encounters. But unexpected events lead to a change in plans for them both when Tanner sustains a serious injury. Will it also lead them to a new future together?
I loved this story! Not knowing much about the rodeo circuit, I enjoyed reading about the life of a professional bull rider and the challenges and danger it involves. It's definitely not a sport for the faint of heart as the injury quotient is fairly high. I hadn't really thought about what kind of training one might go through in order to be successful, but Tanner clearly takes his job very seriously and works hard at being in tip top shape (a physique Evie can't help but notice). The author does a great job of making the rodeo ring come alive.
Tanner will steal your heart as a calm and caring nice-guy hero. He's quick to empathize with Evie's situation and offer her a helping hand. He respects her boundaries and only shows his attraction to her when she reveals hers to him first, culminating in some very sexy scenes between them. When Tanner is injured, he reacts as one might expect to an event that could be life changing, at first pushing Evie away. But Evie shows her fortitude and determination in standing by Tanner as he did for her.
I really liked Evie's character. Though she may have acted with her heart and not her head by her unexpected appearance to force Troy's hand, she does show competence and level headedness for the rest of the story. Evie's vet schooling comes in handy in some scenes that show her training and skill. Clearly she and Tanner have a lot of compatible interests – they just have to decide whether it's worth pursuing a real relationship from what should have been a simple vacation fling. While the couple has some ups and downs, some of it due to their equal hesitance to expect things from the other, the ending is quite sweet and there's a nice epilogue to tie things off. I'm definitely interested in reading more of this series – especially Troy's story to see how his 'player' character gets redeemed. Tanner is a great cowboy romance showcasing a hero with heart.

Book Info:

Publication: May 9, 2017 | Tule Publishing | American Extreme Bull Riders Tour #1
He's used to risking it all in the ring, but nothing prepared him for love…
After flying half-way around the world to surprise her boyfriend, Evie Forrester finds herself heartbroken and stranded in a strange city. What could be a total disaster becomes something else when a tall, dark bull rider turns out to be a white knight in disguise. Evie isn't sure she needs saving, but Tanner Harding is a difficult man to deny. He's even harder to resist…
Tanner Harding can tame a monster bull with ease, but he never expected to be floored by someone like Evie. Sparks fly between them until injury threatens to end Tanner's career –and suddenly he's the one in need of a rescue.
Evie can't turn her back on her wounded hero and, as Tanner struggles with his recovery, she's not sure she can guard her heart against him either. Tanner knows Evie has slipped under his skin, but she lives in Australia and his future is under a cloud. Can two people with too many reasons to walk away make the bold decision to stay?