In Taste the Heat by Rachel Harris, chef Colby Robicheaux has returned home to New Orleans, but only for the summer. After her father's death the family restaurant needs a new head chef and so far nobody has been able to fill her father's shoes. As she learned to cook by his side as a child, she knows all of his recipes and knows how to make some of the best Cajun food. But there is a reason she has not cooked Cajun food in the past years and that her Vegas restaurant is all Italian food, now she has to cook without letting the memories of the past destroy what she has made of her life.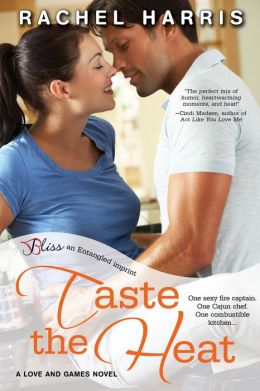 Jason Landry is the local fire captain and along with the neighboring fire captains and friends they are all entering a Cajun food competition. As they are preparing their dishes for the tasting contest, him and his friends all admire the women there. But none hold his attention as they do his friends, until they point him to the judge of the contest, now she is a five alarm hot woman in his standards.
As the contest begins and they take a sample to Colby, she is surprised that Jason has not recognized her. He is her brother's best friend and they basically grew up together. But instead of letting him know who she is, she enjoys the flirtation that he has begun and the looks that he only ever gave his high school sweetheart.
Starting something between them will not be easy though, Jason is looking for a woman to become his wife but he only wants something superficial so his daughter Emma will have the womanly influence and guidance she needs now that she is close to being a teenager. He already loved his wife with all his heart and he does not want to get hurt ever again. And not only that, Cane, Colby's brother, will beat him up if he finds out the thoughts he is having about his little sister.
But Sherry, Colby's young sister, and Emma have other plans in mind. Sherry wants her sister to stay and to be with family once again and Emma wants a mother and someone that will make her father happy. These two matchmakers will stop at nothing to try and bring Jason and Colby together at every possible opportunity.
As Jason and Colby decide on a summer affair, soon what they thought they wanted will change to something completely different. But if they are to have true love in their lives, they must first open up and let go of the past and the pain the suffered.
This is a sweet, emotional and very entertaining read. Jason is a true southern gentleman, but that doesn't take away the fact that is one HOT fireman, something that will not get past Colby. While Colby is a sweet and very determined woman, she still judges everything by the past instead of trying to rise above it and continue living. But with the help of one handsome fireman she may just learn to forgive and move onto better things.
Don't miss Taste the Heat by Rachel Harris it is a deliciously delightful read.
Book Info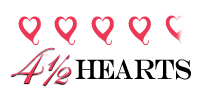 Publisher: Entangled: Bliss (July 8, 2013)
One sexy fire captain. One Cajun chef. One combustible kitchen…
When chef Colby Robicheaux returned home to New Orleans to save her family restaurant, the last person she expected to reconnect with was her brother's best friend and her childhood crush. As tempting as a sugar-coated beignet, Jason is one dish she can't afford to taste. Colby can't wait to leave the place where her distrust of love and commitment originated and go back to Vegas.
Fire captain Jason Landry isn't looking for love, either. Disillusioned by his past, he knows he should be focusing on finding the perfect mother for his daughter. But when he first sees Colby, all grown up and gorgeous, he can't help but be drawn to her. And when she suggests a no-strings-attached fling, Jason can't say no.
As their relationship grows more intense, Colby finds that Jason isn't as easy to leave behind as she thought. Could turning up the heat on something real be worth the possibility of getting burned?