In Teach Me a Lesson by Jasmine Haynes, Charlotte Moore has a tendency to over-analyze when it comes to her own relationships. But as a part-time high school guidance counselor and also a sex therapist, she excels at helping others with their personal struggles. Charlotte is ready for a little romance after an embarrassing dry spell, so hearing about her best friend's foray into light bdsm isn't helping the situation. Then she begins to see high school principal Lance Hutton in a whole new light. Normally Charlotte is drawn to younger men so she can be in control. However, he is almost ten years her senior and very much in command…which she finds intriguing. As they start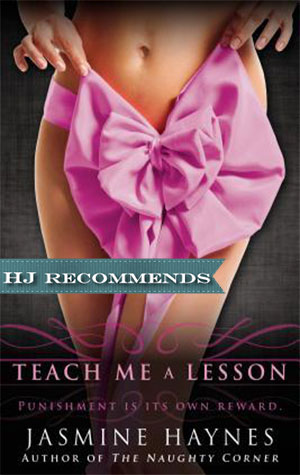 playing a game where Lance holds most of the power, Charlotte likes her submissive role more and more but is afraid she'll ultimately lose control of her heart in the process.
'Naughty, over-the-top sex could become addictive, and yes, Charlotte could easily become obsessed with the way this man made her feel. Being a therapist didn't preclude her from that. But it did make her aware of the danger.'
Principal Lance Hutton has a strict rule about not dating any of his staff members. But Charlotte Moore makes him want to break every rule he can think of and then some. The sexy way she flirts with him drives him crazy until they have an encounter that brings out a dominant side he didn't know he had in the bedroom. Their role playing consumes his every thought. Lance knows Charlotte is trying to keep her controlling nature at bay for the most part so he doesn't argue when she takes over from time to time. But as he starts to wish for a relationship instead of just casual wild sex, he worries he may push Charlotte away by making her feel like she's losing complete control of the situation.
"One of the things I like best about you is your filthy mouth, Miss Moore. Don't stop using it on me. In every way, shape, and form."
Teach Me a Lesson is a seriously hot and very naughty romance by Jasmine Hayes. It is erotic as hell and will leave you panting for more stories just like this one.
This is the first time I've had the pleasure of reading anything by Jasmine Haynes. Based on how well written Teach Me a Lesson was, it won't be the last I read of her work, either. Hawt is an understatement here. The story definitely flirts with bdsm & role playing, but it is in a rather sensual, classy way–not hardcore or smutty. Not to say that it's not explicit, because it certainly is. The dialogue is flirty and oh, so dirty it will give you heart palpitations. Seriously. Whew. And the chemistry between our protagonists is absolutely off the charts. Every encounter they had was new and thrilling, even to someone who reads a lot of romance/erotic stories. 😉
Charlotte and Lance seem…sophisticated, and very much in touch with who they are. But they were still willing to learn how to be more open sexually in a safe environment and with someone they trust implicitly. I really thought it was rather poignant when Charlotte starts thinking to herself how she was glad she took a chance on Lance, even though he is older than herself. And how her preconceived notions of how they would be together were thrown right out the window from their very first role playing session. They both were brazen in some of the, um, creative choices they made romantically, which was out of character, but paid off very, very nicely.
Hold onto your ereaders and paperbacks when you read this one, folks. It's so hot it will burn your fingers! Definitely recommended to those of you looking for a mature and steamy love story.
Book Info:


Published April 1st 2014 by Berkley Trade
Do what you have to do, Principal. I deserve it…
High school guidance counselor by day, sex therapist by night, Charlotte Moore's passion is people—whether helping students with the realities of life or helping their parents with the fantasies. Enter Principal Lance Hutton, the perfect subject for Charlotte's method in recharging the sex drive—and it's going to take some discipline. Considering this hot older man is her boss, it makes sense that he dole out the punishment. Besides, Charlotte's begging for it.
But when Charlotte's after-school extracurricular activities are made public, it threatens her job, her reputation, and the career of the man she's falling head over heels in love with. Now, if this town wants a scandal, Charlotte and Lance are ready to give them one—and a lesson in bad behavior they'll never forget.