In Tease Me (Stark International Trilogy #5) by J. Kenner, Jamie Archer has been focusing on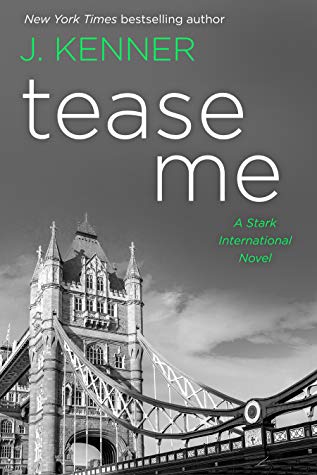 her career as an entertainment reporter–and an aspiring actress–to keep her mind off of the fact that her sexy husband, Ryan Hunter, is in London for the time being. His work as head of security for Damien Stark takes him all over the world. But usually not for such long spans of time. Jamie holds it together pretty well until her reunion with Ryan is overshadowed by a text he receives from a woman he knew years ago. Someone he's never mentioned before. And that's when Jamie's insecurities begin to bubble up, wondering if her bond with her husband is truly as strong as it seems.
"Thank you."
"For what?"
A tear snaked down her cheek. "For always getting me."
"Well, Kitten, it's been a long course of study. But I do enjoy getting educated."
Work is always a priority for Ryan, with Stark having so many business ventures–and potential enemies. But his beloved wife Jamie comes first before anything else in his life. That's why working in London has him hyper-focused on getting everything done as efficiently as possible, so he can get home faster. But after a cryptic text brings back a woman from his past who Ryan thought he'd never see again, it has the potential to affect his marriage. Something he can't allow to happen. Because Jamie is his life. And the best thing to ever happen to him. So nothing, not even someone intent on gaining his assistance, will threaten Ryan's relationship with his wife.
'That was what he loved the most about her. That wicked independence. A delicious wildness that only he could tame.'
Suspenseful, dramatic, and seductive, Tease Me was an amazing story about fan favorites Ryan Hunter and Jamie Archer set in the Stark Universe. And being published through 1001 Dark Nights, you just know J. Kenner brought the heat!
'Right now, I'm nothing but need, and I want to melt into Ryan's arms and let him use me to satisfy every one of his wicked cravings.'
I've been a J. Kenner fan for forever and although Damien and Nikki will always be my favorite of her couples, Jamie and Ryan are a very close second. There's such a unique connection between them. And it was easy to see their chemistry as well as the power play Ryan and Jamie share in this short-ish book–which followed them to London while he was working there for Stark. I loved getting glimpses of Ryan's past, back when he was fairly new to the world of security. It was shocking, what happened years ago, and I honestly enjoyed how Kenner shook the power couple up a bit when things came back to haunt Ryan.
The storyline followed here was actually bonus content that went out a chapter at a time in Kenner's email newsletters. She has since put them all together, added even more depth to it, and released Tease Me through 1001 Dark Nights as a standalone. I remember reading the opening scene in her newsletter, with Jamie out to seduce…someone, and it was such a powerful moment in her life. (And hot as sin!) The rest of the story kept that erotic edge–as you would expect from Kenner–but the intrigue surrounding a woman from Ryan's past was also explosive and really did captivate me from the start.
Tease Me had as many exciting moments as it did passionate. Blended in with a compelling plot and a host of characters you'd want to meet in real life, J. Kenner did a spectacular job (as always) with this latest Stark story.
Book Info:

Publication: Published March 10th 2020 | by 1001 Dark Nights Press | Stark International Trilogy #5
From New York Times and USA Today bestselling author J. Kenner comes a new story in her Stark International series…
Entertainment reporter Jamie Archer knew it would be hard when her husband, Stark Security Chief Ryan Hunter, was called away for a long-term project in London. The distance is difficult to endure, but Jamie trusts the deep and passionate love that has always burned between them. At least until a mysterious woman from Ryan's past shows up at his doorstep, her very presence threatening to destroy everything that Jamie holds dear.
Ryan never expected to see Felicia Randall again, a woman with whom he shared a dark past and a dangerous secret. The first and only woman he ever truly failed.
Desperate and on the run, Felicia's come to plead for his help. But while Ryan knows that helping her is the only way to heal old wounds, he also knows that the mission will not only endanger the life of the woman he holds most dear, but will brutally test the deep trust that binds Jamie and Ryan together.