Temporary to Tempted by Jessica Lemmon is a sexy romance that starts off as a weekend arrangement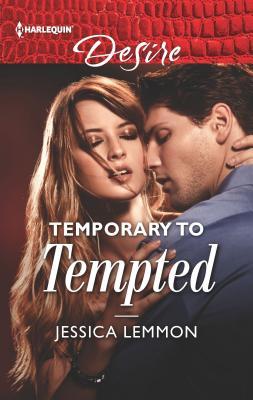 and ends up with a happy ever after. It's part of the author's Bachelor Pact series, which started with a fun and sexy friends to lovers romance, Best Friends, Secret Lovers.
Gage Fleming doesn't know what to think when an attractive woman approaches him at a bar and offers him money to attend a wedding as her date. He turns her down though he kind of wishes he hadn't. He gets a chance to change his mind when she shows up at his workplace as the person who has been hired to get their business to a new level.
Andy Payne prides herself on her work and never getting flustered, but she certainly doesn't expect her new clients to include the man she propositioned! She's ready to call off the business arrangement when Gage surprises her by accepting her initial offer to be her date for the wedding in return for her keeping her commitment to help their company. It's too good an offer to resist, and when Gage does a more than admirable job of being her date, complete with some unexpectedly hot moments behind hotel doors, it's tempting to think that what they have could lead to something permanent. But Gage is part of a bachelor's pact to stay clear of marriage after a previous engagement left him with cold feet. Is he willing to break the pact for a future with Andy?
I loved this story! Andy is a smart, efficient and talented businesswoman with a stellar reputation. People don't realize she's female until they are already locked into confidential agreements with her as she learned early on that men would discount her talents when they'd find out she was female. She has a tender side she's learned to keep hidden from her nagging family, one she lets Gage see when he accompanies her as her date. Gage is able to see all facets of Andy's personality, a rare treat, and one he increasingly realizes is drawing him to her more than he expected.
Gage is a fun, handsome, extremely likable bachelor and he intends to stay that way. He's got no qualms about pretending to be Andy's date, especially in front of a douchy ex-boyfriend and family members whom he sees as disrespectful of Andy's choices. His attraction to her isn't feigned, and the more time they spend together the more he likes her. Plus, the sex is off the charts! Andy is the first woman he can see himself having a future with, a thought that scares him. Naturally he has to go and muck things up with Andy and then hope she'll forgive him when he tries to repair the damage. He gives good grovel, and Andy is willing to give him a second chance so they get a well deserved happy ending. I enjoyed all the secondary characters in this series, including Andy's family and the relationship she has with all her sisters is one that improves over the course of the story, which was nice to see. I look forward to reading about the last bachelor of the pact, Reid, getting his happy ending too!

Book Info:

Publication: Apr 01, 2019 | Harlequin Desire | The Bachelor Pact #2
Yours for the weekend…
give or take forever.
Desperate not to be single at her sister's wedding, Andrea Payne offers to pay a total stranger to be her date. But the hunk who turns her down is Gage Fleming, the man who just hired her! To keep her on the job, Gage says yes. But when their ruse turns to real passion, they must choose—end it now…or make it last?