Boyfriend for Hire by Kendall Ryan: Elle is smart, sweet, and has terrible taste in men. She's recently out of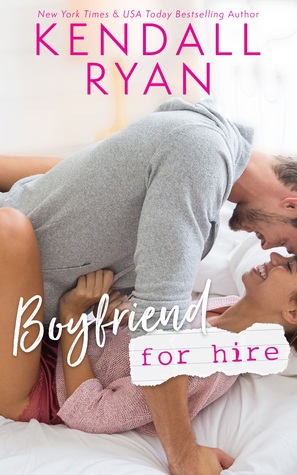 a relationship with an idiot who made her always feel self-conscious about her body. Considering she dated her brother's really good friend, she's not exactly looking forward to her brother's wedding. She's hoping to be a lawyer one day, if she ever finds the courage to take the Bar exam.
Nic fell into his current career as an escort. He uses his looks, charm, and skills in the bedroom to make his clients feel very good about themselves, but for a price. One day, he would like to have a different career, a wife, and a family, but he's content for now. He tends not to date, since he can't imagine many women would be okay with his job.
Elle's soon-to-be-sister-in-law decides to hire Nic and pass him off as a blind date for Elle. The bride has the best of intentions, but miscalculates. Elle and Nic immediately hit it off and both feel the chemistry. Nic is so fun to be around and treats Elle really well, which is a refreshing change. Elle is excited to meet someone as great as Nic, but Nic is torn. Elle is everything he would want, but she's a client and that's a line he won't cross.
"I feel like you're too good to be true," I say, sipping my drink.
"Trust me, I'm far from perfect." He smiles, looking down. "It's me who's lucky to be with you."
"Well, if you're expecting elaborate homemade dinners from me, you might be disappointed. I love to cook, but I've never made anything like that before."
There's this push and pull tension between them as Nic struggles with the rules he chooses to live by as an escort. Elle makes Nic want to break all the rules as he feels like himself when he's with her rather than a persona for the night. Nic makes Elle feel beautiful, desired, and cherished. Of course, there is a problem in that Elle doesn't know the truth about Nic or how they met.
"You don't have to just say that, you know. I can call right now and cancel. I'm really good at coming up with last-minute excuses."
Elle smiles, her eyes crinkling a little at the corners like they do when she's being patient with me. "Are you sure you're ready for this? You've given me every chance possible to get out of this breakfast since we scheduled it last week."
Boyfriend for Hire is sweet yet sexy with lots of anticipation. Kendall Ryan developed the relationship and built a world around the escort agency. Ms. Ryan provided great characters, banter, romance, and conflict. Fans of Meghan Quinn and Leddy Harper will enjoy Boyfriend for Hire.
Book Info:

Publication: Published February 19th 2019 | Kendall Ryan | Escorts, Inc. #1
I'm the guy you call when you need to impress your overbearing family, your boss, or your ex. Yeah, I'm a male escort, but not just any escort, I'm the escort. The one with a mile-long waiting list and a pristine reputation that's very well-deserved.
I'm the guy who'll make you feel beautiful, desired, and worshipped . . . all for a steep price. I'm hired to make you shine, and I always deliver.
I'll be whatever you want me to be for one night—except my true self. This is just a job, a role I play to earn a paycheck.
But I'm not the guy who falls for a client. Not once in six years.
And then I meet Elle. Her friend has hired me to escort her to a wedding, but Elle doesn't know we're just pretending.
There's a fire between us I never expected. A connection I haven't felt in so long. One kiss, and I'm losing all control.
But what will happen when she finds out who I really am?