Second Act by Nancy Herkness is the second book in her Second Glances series. This is a second chance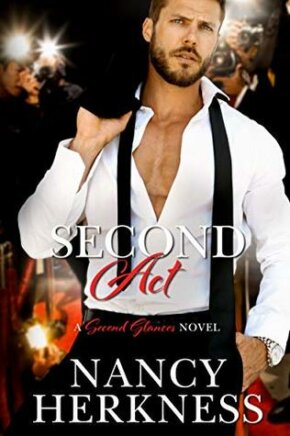 romance which I love to read.
Jessica Quillen is a very dedicated verterinarian. Her clinic in Lower Harlem is always very busy. This means she really doesn't have time for much of a social life and she is quite content with the status quo until… while trying to catch a pregnant stray dog she literally runs into her ex-fiance who happens to be in New York filming his latest movie. Her ex-fiance happens to be film super star Hugh Baker.
Jessica has never stopped loving Hugh. Actually her solid love for Hugh is why she broke off their engagement. She felt she was no asset to him and his rising Hollywood career. It broke her heart to give her engagement ring back to Hugh eight years ago. She thought they still might be casual friends though. But, no. Hugh didn't respond to her texts. Hugh was very upset about the broken engagement. With his background of being raised in the foster care system this felt like the abandonment he endured during his childhood being shipped from foster home to foster home. He just couldn't get over those issues. So now what? The two meet again. She still loves him. He wants her. Will the dedicated vet and the super star manage to get together again and have a HEA?
These two characters are so realistic I felt I could trust Jessica as a vet for my pets and I would go out of my way to get to her clinic. As for Hugh – Wowza! I just wanted to be charmed and liked by this sexy, good-looking, charismatic man. Jessica and Hugh have a number of issues to solve before getting their HEA. I loved joining them on this sweet, loving, emotional journey.
Book Info:

Publication: April 2nd 2019 | Montlake Romance | Second Glances #2
Lights. Camera. Romance.
Jessica Quillen, veterinarian for the charitable K-9 Angelz program, didn't mean to stumble into the middle of a New York movie shoot. She just wanted to rescue the stray dog she'd been chasing. Instead, she's playing catch-up with her ex-fiancé—and the screen's hottest action hero, Hugh Baker. The only man she ever loved. The dream that disappeared. The heartthrob who's now hoping for a "take two."
Seeing Jessica triggers emotions Hugh has tried to forget. Abandoned by his mother to foster care, he still struggles to feel worthy of love and to open his heart to a woman. His biggest mistake was not trusting Jessica. It was his fault she left. All he wants now is to make up for lost time. But he has to prove that she can trust him.
Though the sparks still smolder, he's still Hollywood—a world far away from Jessica's. Now it's up to her to give their love story a happily ever after.