In Tempted (Montana Heat #3) by Love by Jennifer Ryan, DEA agent Jay Bennett knows the Cooke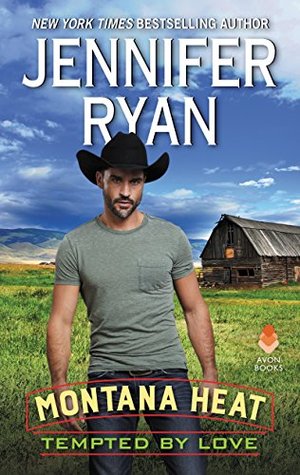 family pretty well and considers himself closely tied to the tight-knit bunch. He might be Caden and Beck's boss, but more importantly, they're his best friends. That's why Jay has to think twice about giving in to his attraction to their younger sister Alina at a wedding reception. But when the chemistry is mutual, they have an unforgettable night together that only leaves Jay craving more. Between their age difference, his friendship with her brothers, and his dangerous job, he knows he and Alina are a bad idea. But after she's threatened out of the blue and one of Jay's DEA cases gets way more intense, he's convinced that the safest place for Alina is in his home and in his arms. And that's the way he wants her to stay. Hopefully forever.
"Bad ideas are our specialty."
He reached out and brushed his thumb over her bottom lip. "You're the best bad idea I ever had."
Alina knows all the reasons why she and Jay shouldn't even try a relationship. The biggest reason being the tough life anyone close to a DEA agent must endure, not knowing if their loved one will make it home safe. And to be added to that long list is her blossoming career as a busy pharmacist. Having just bought into a local pharmacy, Alina is co-owner along with Noel, a man who is battling some issues at home with a sick wife and who keeps crossing the line from professional to borderline handsy. It's nothing she can't handle, though. But after an attempt is made on Alina's life, forcing her to take protection by staying with Jay and having bodyguards, she notices some things are off at the pharmacy as well. Could it all be tied together? Or could it be one of the thugs her brothers and Jay are after is using her to get to them?
"I may not deserve you, but I am trying damn hard to be the man you deserve."
Alina held him close, her arms wrapped around his head. "You're everything I need."
High octane action and steamy hot attraction made for a thrilling time in Tempted by Love, Jennifer Ryan's latest in her Montana Heat series. Set in the same timeframe as book two, this gave a whole new perspective on the events that took place in True to You.
'She'd always worry about Jay on a case, but this up-close view of how he thought, how he worked, proved what she already knew but needed to see to ease her mind: her boyfriend was a badass.'
I've really enjoyed this series by Jennifer Ryan which focuses mainly on the Cooke family and their fellow DEA agents they closely work with. And while this wasn't my favorite book of the bunch (I think it will always be Beck & Ashley in Escape to You) I had a great time with Alina and Jay's romance. Here we had a combination of two tropes: friends to lovers and brothers' best friend. And Alina's two overprotective brothers were definitely a cause for her and Jay to be concerned considering Caden and Beck had run off–or at least warned off–anyone she's ever dated. It was a fun family dynamic, though. There was so much love and genuine care and concern between the siblings; something that Jay saw and didn't want to harm in any way, particularly as he was a close friend to both Beck and Caden.
Alina and Jay had what turned out to be a fun, very passionate but extremely tender romance. On their own, they were standup individuals but quite different from each other. Alina was sort of a caregiver to everyone around her. She was warm, giving, smart, but she knew herself and what she was capable of. Just because she was so kindhearted didn't mean she was weak. And Jay, well, he was one of my favorite types of alpha males. He could be all badass and grumbly when needed, but he was a softie when it came to Alina and those under his protection.
I loved watching Jay with Adam, Alina's nephew, and how natural he was with the youngster. It was nice to see a tough guy who was longing for a wife and family instead of fighting the idea. In Jay's case it was something stable he could go home to after his dangerous missions with the DEA. And dangerous it was! I felt sort of bad for both Jay and Alina because it seemed like they were forever in the wrong place at the wrong time, ending up hurt or being threatened. But it made for an exciting storyline. (lol) And I must say that one of the antagonists was written so convincingly, with such a blend of good *and* bad in him, that I almost–not quite, but almost–felt bad for him.
Tempted by Love had the emotional depth and intriguing characters I've come to expect from Jennifer Ryan's wonderful writing. She had me cheering on our lovebirds to put the bad guys behind bars as they also fought their way to a beautiful HEA.
Book Info:

Publication: August 21st 2018 | Avon | Montana Heat #3
She was this Montana Man's greatest temptation . . .
Alina Cooke—little sister of his two best friends—is the last woman DEA agent Jay Bennett should be waking up next to on the day of her brother's wedding. But their powerful attraction ignited a powder keg of desire, and their once simple friendship has just become impossibly complicated.
Alina's always been steady, focused, and lived on the safe side of life. Jay is totally devoted to his dangerous job. She knows a future with him will be filled with worry that one day he won't come home. She's done it with her brothers. She's not sure she can face that uncertainty with the man she loves. Yet being in his arms is a bad idea they keep repeating, again and again.
When Alina is run off the road, Jay fears his job has made her a target. But the threat in Alina's life is closer than they think. As the enemy gets more ruthless, Alina proves she's no easy target and Jay will do anything to bring them down. Because surviving and being together is the only thing that matters.