In Tempted by the Hot Highland Doc by Scarlet Wilson, filming a year in the life of Scottish doctor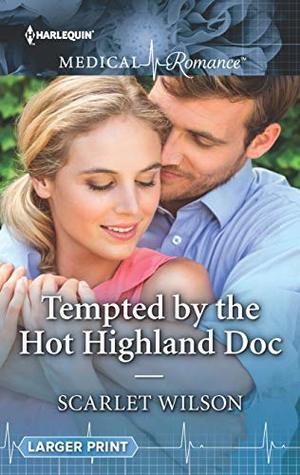 Rhuaridh Gillespie on a remote island isn't TV presenter Kristie Nelson's idea of a good time. However, it could just be the show she needs to get her career back on track. Yet, the more time she spends with Rhuaridh, the more she finds her life turning a corner and becoming more than she ever imagined. Will Kristie be able to convince Rhuaridh to take a chance on a relationship between them or will they go their separate ways after the show is finished?
He kept shaking his head. "I'm beginning to wonder if you're a jinx. First the thing with John Henderson, then the thing with Magda. You always seem to be around when there's a crisis."
"You mean you never had any crises on Arran until we started filming?" She deliberately phrased the question so he'd realise he was being ridiculous.
He sighed. "Of course we did. But believe it or not, lots of days are just normal stuff. Nothing that dramatic or exciting and to be honest…?" He looked away. "I kind of like those days."
Normally I enjoy Ms. Wilson's books, but I was a tad disappointed by this one even though it gets off to a wonderful start with readers discovering how Kristie's career isn't going nearly as well as she wishes and if she doesn't have something miraculous happen anytime soon that she could lose her job. Will filming Scottish doctor Rhuaridh Gillespie be the kick start she needs to get her career back on track? Is being a TV presenter still what she wants for her life? However, I found this story really slowed down and the connection between the hero and heroine wasn't all that strong in the moment they met. Yet, in saying that, it does get stronger as Rhuaridh and Kristie spend more time together.
As for the dialogue, it was engaging and I loved the decisions the heroine makes throughout this story that make her realize what she wants for her life. However, there are moments where I thought she wouldn't make the right decisions in order to achieve her happy ever after with Rhuaridh, which had me thinking the heroine might turn out to be a little selfish, but she proved me wrong. Will she betray the hero by using their chemistry to up the ratings of the show? Does her job mean everything to her that she would do anything to further her career? Will the show be a success? Moreover, I really liked the hero. He's kind, caring, hard-working, a good friend and it's understandable why he doesn't trust many people and why he has a little animosity towards the heroine doing her job and documenting his professional life the way she does. Will Rhuaridh trust Kristie to do the right thing?
Overall, Ms. Wilson has delivered a good read where the chemistry between this couple was slow building but got stronger the more time these two spent together, as the hero and heroine start off as sort-of enemies; the romance was delightful and had me loving that these two gave each other a chance; and the ending had me loving the decisions the heroine makes to achieve happy ever after with the hero. No way will she let him push her away. Then again, does the hero overreact? I would recommend Tempted by the Hot Highland Doc by Scarlet Wilson, if you enjoy the enemy to lovers trope or books by authors Annie Claydon, Deanne Anders, Sue Mackay and Louisa Heaton.
Book Info:

Publication: April 16th, 2019 | Harlequin Medical |
A year in the life…of the Scottish doc.
TV presenter Kristie Nelson's new job could make her career, but it involves filming GP Rhuaridh Gillespie on a remote Scottish island. The doctor's temper is as hot as his rugged good looks and soon their chemistry steals the show. Only, Kristie's just as tempted off camera by the gorgeous doc, who's challenging her to face her past, as she is when they're in the spotlight…