Smooth Moves by Marie Harte is the story of ex-Marine Cash Griffith and his co-worker, ex-Army MP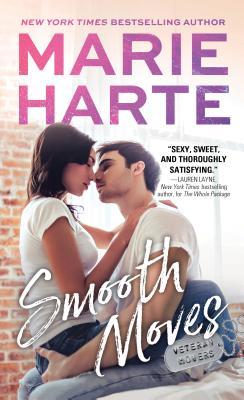 Jordan Fleming. Feeling lost after returning to civilian life, Cash's brother, Reid, creates Vets to Go!, a moving company that employs only veterans. Cash is part owner, but he prefers to go out in the field and actually move things will Reid handles the office side of things.
Jordan is only a few months out of the military, with her younger brother living with her because their parents couldn't handle his behavioral and academic issues. She's struggling to adjust to both civilian life and being a caregiver to her brother.
Both Cash and Jordan have issues they have to deal with, but I liked that neither of them felt they had to go it alone. They find strength in one another, feeling free to open up about what happened to them in the military, and what's going on with their families.
Jordan comes across a bit gruff, but it's really a shield to protect herself. I liked that Cash is able to see through her tough exterior and get to see the woman underneath. He respects her need to be independent while providing her the support she needs.
The one thing I wasn't crazy about was there was a reveal about Cash's past which involves Smith. It felt incomplete and I was left with questions. If Smith knew the truth while Cash and Reid didn't, why didn't he say anything? And why is he working for two people he clearly despises? I'm hoping Smith is going to get his own book and it will all be cleared up then, however, the way it was covered in this book just made that aspect of the story feel incomplete.
While this is the second book in the series, it can be read as a standalone. I haven't read the first book in the series and was fine following along with the characters and the storyline. I would, however, like to go back and read the first story to see why Reid felt motivated to start up Vets to Go!.
If you enjoy stories about veterans learning to find their place in civilian life, Smooth Moves is the book for you. The storyline is interesting, all of the characters are entertaining and enjoyable, and there's some humor mixed in with the angst. It has a little bit of everything to keep readers interested. I'm looking forward to reading more of this series.
Book Info:

Publication: May 28, 2019 | Sourcebooks Casablanca | Veteran Movers #2
Ex-Marine Cash Griffith is a beacon for trouble. Working for the family moving company, he does his best to keep a low profile, but he can't help finishing a fight someone else starts. There's one person at work who annoys and baffles him. But if he even thought about taking her on, she'd put him down. Hard. Which is a real problem, because Cash wants nothing more than to tangle with sexy Jordan Fleming.
The ex-Army MP has her hands full with her new job and her rebellious teenage brother. Getting him through summer school is a chore. Figuring out what to do with her life now that she's a civilian is disheartening. But one thing she lives for—doing battle with the obnoxious, arrogant, incredibly hot Marine at work.
Their battles turn into true camaraderie, then into something more. Helping each other out with family problems, Cash and Jordan learn to trust each other. One kiss leads to another, and friendship starts turning to love. But when dangerous secrets come to light, their bond will either break or strengthen into a future they both deserve.