Tempted by the Tycoon's Proposal by Rachel Stewart: Sophia is a hotel manager who has to deal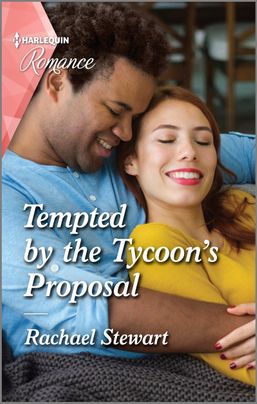 with many issues in her daily job. Still, she is surprised that she is searching for the daughter of Jack McGregor who is a billionaire staying at the hotel for business. Jack's first glimpse of Sophia is her legs sticking out from underneath a table where she is reading to his runaway daughter, Lily.
Jack is so thankful that he invites Sophia to have a thank you dinner with him and Lily. Sophie gets so busy with work that the first dinner has to be postponed. When they finally get together, Lily becomes totally attached to "Sphea". This leads to other special outings, including a truly magical one for Lily's birthday. Jack and Lily lead a vagabond sort of life with no true home. Can Sophia and Jack have a future when work makes many demands on Jack?
Although Sophia and Jack provide the love interests in this tantalizing tale, the true heroine is young Lily. She is a charming matchmaker. The author makes her very real and not precocious. Thanks to lily some of the most vivid, beautiful scenes are added. They make a lovely love story even better.
Both Sophie and Jack are shown to have tragedies from the past that have shaped their lives. Most of us can relate to something that truly changed our lives forever. Love can bring about a certain peace and acceptance.
Although Jack is very wealthy, I found him to be down to earth. His love for his daughter despite his busy schedule is quite endearing.
I look forward to more stories by Rachel Stewart.

Book Info:

Publication: January 1, 2021 | Harlequin Romance |
A second chance…
With the single dad?Hiding under a table with a six-year-old isn't how hotelier Sophia Lambert usually welcomes VIPs. Fortunately, widower billionaire Jack McGregor is relieved she found his runaway daughter! A thank-you dinner sounds harmless, until workaholic Sophia finds herself tantalizingly attracted to Jack… The deeply desirable single dad reawakens long-buried emotions in Sophia, but his jet-set life is beckoning. Unless Sophia can tempt him with her own proposal: to keep his feet on the ground…