In Dragon Revealed (Dragon Kings #1) by Donna Grant, Jeyra, a warrior on Zora, thought she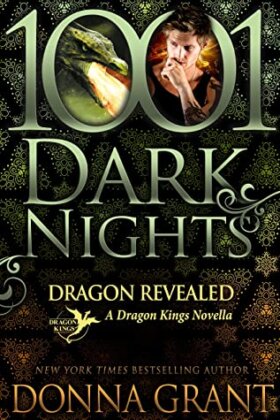 could avenge the destruction of her home and her family by abducting a Dragon King and bringing him to the council. But when she is tasked to interrogate him, Jeyra begins to see that there could be more to her past than she realized. As Varek, King of Lichens on earth, comes to terms with his imprisonment, the bright spot in his captivity is Jeyra. The lass is too smart and beautiful for her own good. No matter how Varek tries to ignore their connection, he knows it's something special. Something to treasure. And if they can make it through their ordeal alive? He'll spend the rest of his life cherishing his warrior woman.
"You sound almost upset that I'm willing to die. Is that because you know I'm innocent? Or could it be because you know that my death willna bring you or anyone else the peace you seek?" he asked.
Dragon Revealed was thrilling, sensual, and filled with plot twists–something I've come to crave from Donna Grant's novels–and immediately snared my attention.
"Through time and space, we found each other. If that isna destiny, I doona know what is, my mighty warrior."
Jeyra smiled up at him. "Indeed, my Dragon King."
What a fun time I had reading this 1001 Dark Nights novella. It was great to be back in the Dragon Kings (aka: Dark King) world in this spin-off that had lots of action and even intrigue in amongst the smoking hot attraction between Jeyra and Varek. Donna Grant knows just how to spin a tale that always keeps me engaged. And in this case, boy didn't she stack the odds against our two main characters as they each fought their own battles, but found companionship and so much more when they started working together.
Although this is a fantasy novel–with dragons!!!!!–I think readers will likely find Varek and Jeyra to be very realistic. Both warriors in their own right, they knew how to take care of themselves while still having compassion for others, especially their kin. One scene in particular toward the end of the story touched my heart when Jeyra was on a rescue mission and she showed not only her bravery but her wonderful soul as well. Something that cemented Varek's belief and feelings for her. Sigh… And throughout the novella he showed over and over again that he was a strong King with an even stronger moral compass. Something that won over Jeyra's heart and will win readers' adoration as well.
You can never go wrong picking up a 1001 Dark Nights novella, but when it's a story by Donna Grant? You just know it's going to be stellar. Dragon Revealed was definitely that, and it sets up the next full-length novel, Dragon Mine, in a grand way.
Book Info:

Publication: Published January 12th 2021 | Pub: 1001 Dark Nights Press | Dragon Kings #1
From New York Times and USA Today bestselling author Donna Grant comes a new story in her Dragon Kings series…
The capture of a Dragon King is cause for celebration. Jeyra never dreamed she would actually face one of the creatures who destroyed her home. But the longer she's around him, the more she finds herself gravitating to him. All it takes is one reckless kiss that unleashes desires and the truth that has been hidden from her to set them both on a course that could be the end of them.
Varek, King of Lichens, has known nothing but a life with magic. Until he finds himself on a different realm unable to call up his powers. Worse, he's in shackles with no memory of how it happened. When he sees an enthralling woman who leaves him speechless, he believes he can charm her to free him. The more she rebuffs him, the more he craves her, igniting a dangerous passion between them. Can he protect the woman he's fallen for while uncovering the truth – or will peril that neither see coming tear them apart?