Michelle Smart had me sucked into Tempted by Trouble from the first page!
Pippa, a UK socialite, is no stranger to the papparazi. Any mistake she makes, perceived or real, are photographed and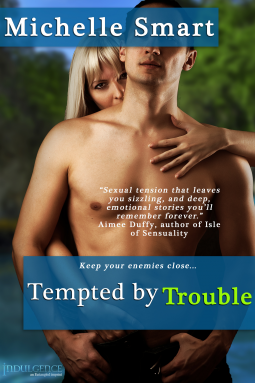 publicized. She has tried to straighten her life out for the last 5 years, but people will see what they want and expect to see. Pippa discovers this with the latest incident that has left her phsycially injured and in emotional upheaval. Her father and stepmother are only too happy to send her to stay with her stepmother's nephew Marco, in the Caribbean, out of the public eye.
Ever since Pippa's mother died when she was 7, she has felt lost, unloved, and unwanted. Marco was a bright light to her whenever she saw him, paying attention to her and making her feel things for him that he apparently did not reciprocate. Pippa expects things to be a bit uncomfortable with Marco initially, but she is not prepared for his coldness, nor his belief that she almost ruined his life years before.
Marco has trouble believing Pippa has matured, that she is not all the tabloids make her out to be. As Pippa's stay with him moves along, he begins to see her in a different light and starts to understand her as a way he didn't before, to learn things about her he never knew. But can he move past the past hurts to persue a relationship with Pippa? Can Pippa also move on, come to terms with her past and feel like she does belong, that she is worthy of love?
Michelle Smart really drew me into Tempted by Trouble, I couldn't put it down! Pippa and Marco both have strong personalities that feed off each other and complement each other, two people I can visualize in my mind. They are at times setting each other on fire either verbally or phsycially, depending on where in Tempted by Trouble we find them. Pippa and Marco both demonstrate that they are caring, heartfelt people despite the troubles and, in Pippa's case, the sadness, that plague them.
Tempted by Trouble is a great romance in such a romantic setting…the Carribean. I could smell the salt air and heat as Michelle described the environment.
I highly recommend this book to all romance readers out there!!
Rating: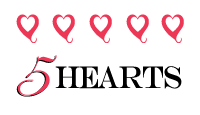 Book Info: Publisher: Entangled: Indulgence (March 11, 2013)
Socialite Pippa Rowantree has always provided excellent fodder for the UK's gossip rags. After another unfortunate scandal sends the gossips into a feeding frenzy, her shamed family retaliates by forcing her into hiding at old family friend Marco Capello's lush Caribbean estate—literally the last place on earth she wants to be.
As far as Marco's concerned, wild child Pippa has ruined his life once and he'll be damned if he lets her do it again. But it's hard to reconcile the adolescent he knew with the mature, beautiful woman who stands before him. Soon he's questioning if everything the media is claiming about PIppa is the truth or if he should trust his heart.