Be warned, Tempted by Trouble by Susan Arden is very hot and very sexy romance, you may need a fan and a drink with some ice to stay cool.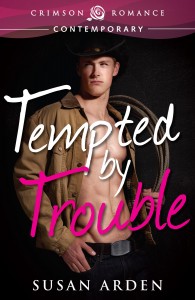 Carolina Rodriguez and her cousin have always been inseparable but now that her cousin is getting married they will have to learn to be two separate women. After dropping her cousin in front of the church to get ready, Carolina decides to go park the car and take a quick nap to recuperate from their late night out. But when she wakes up she finds herself in a very compromising situation, for in the car next to her are a man and a woman getting it on.
Matt McLemore is at his friend's wedding, but that does not take away the worries he has had for the past couple of months. His cattle are dying and they can't find the reason why yet. Good thing that his friend recommended a very good veterinarian to help him find the cause. The bad news is that the veterinarian is the woman that saw him in a very compromising situation.
Now Matt must find a way to convince Carolina not to turn down the contract they were negotiating in order for her to find and solve the problem with his cattle. But it will not be as easy to convince her that the attraction they feel should be acted upon.
Carolina has just broken up with a jerk, and she does not want get involved with a player so soon after, she knows better than that. But the attraction and chemistry will not be forgotten as easily as she wishes. Especially with Matt introducing her as his girlfriend since his father does not want anyone to do more research and leak it to the press.
Matt and Carolina will not be able to go a day without acting on their attraction. They will be together as a couple in front of everyone, but only very few will know that Carolina is also there as a professional veterinarian.
Matt will have to realize that not every woman is out to hurt him and show Carolina that he loves her or risk loosing her forever.
If you want a hot and sexy romance with a very sexy cowboy and a strong veterinarian that will not bend easily to the stronger body, whether animal or human, then you will definitely like Tempted by Trouble by Susan Arden.
Book Info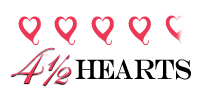 Publisher: Crimson Romance (April 1, 2013)
When a woman is the magnet for the wrong man, it takes a bad boy to break old habits.
Carolina Rodriguez is a large-animal veterinarian on a mission to escape South Florida. Willing to do just about anything, she accepts a job in Annona, Texas over the internet from a family connection. At her cousin's wedding, she runs into–literally–a handsome Texan in the parking lot. Matt McLemore is more than gorgeous, he's Carolina's new boss, and needs her help to determine why his cattle keep dying.
Matt proposes to introduce Carolina to his family as his girlfriend, giving her the opportunity to work and stay at his ranch without arousing his family's suspicion. Only when she learns she's the last chance to help save his family's cattle reputation (given his father's refusal to listen to reason and modern genetic testing) does she agree to act the part of his girlfriend.
Matt's instantaneous attraction to Carolina is an excruciating temptation but a roll in the hay may prove too volatile to handle. He attempts to keep a hands-off relationship until she arrives on his ranch and she is too hot to resist.
Carolina refuses to admit Matt's raw sensuality is more than overpowering or that she's the least bit tempted by a smooth talking bad boy. By the time the lab reports comes back, they've explored every inch of each other. All of a sudden, this fiery affair is more than just a fling. When a past flame threatens to overwhelm their newfound romance, Matt must find a way to stake his claim to Carolina's heart before it's too late.
Sensuality Level: Sensual