Tempting Kate by Jennifer Snow: Tempting Kate by Jennifer Snow is a sexy and fun romance featuring a wedding planner trying to get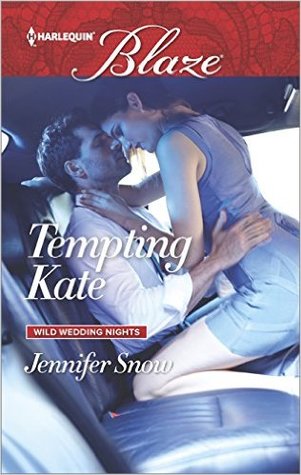 back on her feet and a recalcitrant resort owner who wants nothing to do with the wedding she's planning.
Kate Hartley was left at the altar a year ago and the ensuing fallout not only damaged her ego, it also took a big bite out of her wedding planning business. After all, how could she successfully plan someone else's wedding if she couldn't manage her own? It's not her fault her fiance got cold feet, and Kate has spent the intervening year writing a book to help other brides make sure their men show up at the altar. She's got the chance now to plan a high profile wedding for a film actor Derek and his fiancee Liz– but the timeline is tight and the bride wants the wedding to be held at the ski resort her future brother-in-law Scott Dillon owns. But when Kate calls Scott to make some plans, his answer is a resounding 'No'.
Scott's is firm in his belief that Derek and Liz should not be getting married due to a family secret, and if it means he has to keep them from using his resort to do it, so be it. But Kate is clearly in a bind, and the more he gets to know her, the more he realizes that this wedding could be her ticket to ensure her company gets back on sure footing. Plus, he's had to cut back a lot of staff at his newly renovated resort due to low attendance so a high profile wedding would help him too. It's a dilemma for sure, and one not easily solved. But as Kate and Scott grow closer, so does the time to decide once and for all what to do about the knowledge that could ruin everything. Will there be two couples that get their happy ending or none?
Kate and Scott might start out at odds with each other but when they meet in person, the attraction between them soon leads to some very sexy scenes even as they disagree on what to do about the wedding. The secret Scott knows is pretty significant, and even as a reader I was intrigued to know how things would work out (and was kept on edge waiting!). There's also a bit of a suspenseful side plot involving Kate's ex thrown into the mix which seemed an unnecessary side plot but does help Kate end up grateful that she never married him after all.
The setting of the story ranges from the city to the luxurious mountainside resort that is a perfect fit for a wedding, as Scott reluctantly begins to realize. Interestingly, Scott is actually a pilot whose purpose in buying the resort was in fact for a cargo plane that came along with the deal, so there are some enjoyable flight scenes (and a sexy plane encounter too!) – and some flashbacks to a traumatic plane crash that changed the course of Scott's life. I found the ending to be a bit rushed, but was glad to see Scott and Kate resolve their conflicts and find their own happy ending.

Book Info:

Publication: April 18, 2017 | Harlequin Blaze | Wild Wedding Nights
Everything depends on this one day
Would anyone hire a wedding planner who was left at the altar? The answer, Kate Hartley has found out, is no. It's been nearly a year since her fiance abandoned her at their destination wedding, and Kate's career is nearly toast. Unless she can pull off the wedding of the century for her new clients, a Hollywood power couple. So why is the groom's brother, sexy-as-hell resort owner Scott Dillon, trying to stop the wedding?
Scott wants to do the right thing the bride-to-be is keeping a secret and Scott's brother deserves the truth before he says "I do." But if Scott doesn't stop trying to stall the wedding, he'll ruin Kate's career, not to mention any chance he has of being with her.