Tempting Little Tease by Kendall Ryan: I've eagerly awaited the fourth book in Kendall Ryan's Forbidden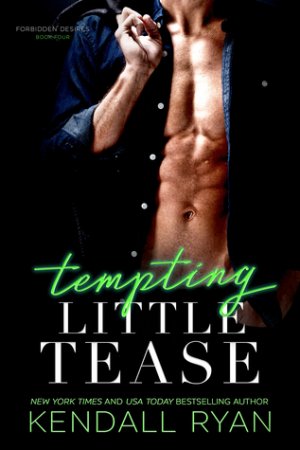 Desires series, because I could't wait to get the oldest Kingsley brother Quinn's story. He's been a little bit of a mystery and perfectly broody throughout the prior three books, which do not have to be read in order to enjoy Tempting Little Tease, and his love story is sweet and steamy.
Quinn is learning Italian, but he never intended to find love with his new, much younger tutor. He falls fast and hard for Alessandra, and their chemistry sizzles from the first moment they met. She's set to move to Italy in a few months and is wary of getting involved with Quinn, but she cannot resist the lure of Quinn. He's swoony, and their push and pull is delicious.
Readers will love their effortless dynamic as these two get much more than they bargained from their tutor/tutee relationship. Tempting Little Tease is a quick, sexy read from the uber-talented Kendall Ryan.
Book Info:

Publication: 3/20/18 | Self-Published – Kendall Ryan | Forbidden Desires #4
She's the tutor I hired to teach me Italian.
She's way too young for me, but she's also gorgeous, bright and filled with a curiosity about life that I find incredibly refreshing.
It's fucking adorable.
I'm old enough to know better, but this pretty young thing tempts me beyond belief. And for the first time in my life, I can see myself falling.
***
Is this what it's like to be pursued by an older man? The complete confidence, the lack of expectations, the sincerity?
My God, it's exhilarating.
Quinn Kinglsey is totally unexpected. I'm moving to Italy in three weeks to teach English, and while I never expected something so real to develop between us so quickly, our chemistry is explosive.
There's something so sexy about this back and forth he and I share. Flirting with this man is like playing with fire, and I'm bound to get burned.
Io sono attratto da te I'm attracted to you, he tells me.
But is our attraction enough to get us through the complications of a massive age gap and an international love affair? Only one way to find out…