In Welcome to Moonlight Harbor (Moonlight Harbor #1) by Sheila Roberts, Massage therapist Jenna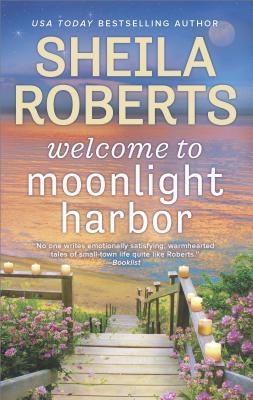 Jones's life has become a sad cliche as of late. She was side-swiped by her now ex-husband, an artist who has some serious mooching abilities. And she's turning the big 4-0. Plus her fourteen-year-old daughter Sabrina is giving her a ton of attitude over the divorce. What Jenna needs is a new start in her life. Or a million bucks. But as difficult as a new beginning might seem, it's definitely more productive than moping around, feeling sorry for herself. So when she receives an invitation from her lovely but elderly great-aunt Edie to move to Moonlight Harbor, Washington, to help Edie run The Driftwood Inn, it couldn't have come at a better time.
"Well," Jenna said as they walked back to the house, "we're not going to get any customers with the place looking this way… It's not going to be cheap."
…Aunt Edie gnawed on her lower lip. "We do have a challenge."
There was an understatement of tsunami proportions.
Moonlight Harbor was everything to Jenna growing up. She and her younger sister would spend days at the beach, wandering around the cute coastal town. And as she drags her sullenly daughter to Jenna's old stomping grounds, the town still holds a lot of appeal. Although her great-aunt's outdated motel leaves much to be desired. Unable to keep up with renovations and with a handyman who isn't so handy–or helpful–Edie's beloved business is in shambles. Jenna is determined to make a go of bringing The Driftwood Inn into the twenty-first century, one way or another. And with the friends she makes along her journey, including a mysterious guy who's also new to town, a local real estate guru, some shop owners, and Edie's book club friends, Jenna just might see her dream become a reality.
'Okay, so maybe rehabbing a motel wouldn't make her famous. But it would make her and everyone who came to stay there happy.
This was where she belonged. This was home.'
Welcome to Moonlight Harbor started off Sheila Roberts' newest series in style. Set in an absolutely charming beachside town and filled to the brim with interesting locals, this introduction was as inviting and instantly likable as anything else I've read by Roberts.
I was so sad when Sheila Roberts' Icicle Falls series ended. I adored the town, the characters, the fun businesses they all ran–and the creative names she came up with for said businesses. (For eagle-eyed readers, you'll actually notice a few references to Icicle Falls in this book!) But I have a feeling that Moonlight Harbor will easily become one of my new favorite series, thanks to the emotional depth and realness of Roberts' characters. And I think readers will love that she included some seriously delectable looking recipes at the end of the book, a tradition I am so happy she's continued.
Now there admittedly were a LOT of people to get to know as well as learning about the town itself as this was the first book. The "getting to know you phase" as I (lovingly) call it. The main focus was Jenna, her daughter Sabrina, and Jenna's great-aunt Edie. While I did love the majority of the cast, honestly, Aunt Edie was a stand out character to me. She was in her early eighties but she still had a lot of spunk left in her and was a truly kind and considerate woman. It didn't hurt that she had a pet parrot named Jolly Roger who was hysterical, becoming the comic relief a time or two.
Jenna was a relatable heroine who was recently divorced and dealing with a rather unruly teenage daughter, along with the tough choice of how she should start over. It felt like going to Moonlight Harbor and running The Driftwood Inn with her great-aunt was a good decision. The only part I got a little frustrated with was Jenna becoming sort of martyrish in how she dealt with her daughter and her ex-husband. Sabrina was not spoiled per se, but unfortunately walked all over her mom–as did Jenna's ex, Damien. Thankfully Jenna did eventually stand up for herself and put her foot down to a certain extent.
There was a little bit of a love triangle between Jenna and two handsome guys in town. It wasn't angsty or anything like that, but it added a little something to the storyline that caused more tension for Jenna at a time when she was already struggling. I did like both fellas. They had their own backstories, one in particular that was surprising and rather tragic. I won't say exactly how things turned out, but this was more of a HFN ending as opposed to a HEA so it left things open for the next installment.
Completely enjoyable and well worth a reader girl's hard earned money, Welcome to Moonlight Harbor will be sure to capture your attention as well as your heart.
Book Info:

Publication: April 17th 2018 | Mira Books | Moonlight Harbor #1
USA TODAY bestselling author Sheila Roberts returns with a brand-new series set on the charming Washington coast
Once happily married, Jenna Jones is about to turn forty, and this year for her birthday—lucky her—she's getting a divorce. She's barely able to support herself and her teenage daughter, but now her deadbeat artist ex is hitting her up for spousal support…and then spending it on his "other" woman.
Still, as her mother always says, every storm brings a rainbow. And when she gets a very unexpected gift from her great-aunt Edie, things seem to be taking a turn for the better. Aging Aunt Edie is finding it difficult to keep up her business running The Driftwood Inn, so she invites Jenna to come live with her and run the place. It looks like Jenna's financial problems are solved!
Or not. The town is a little more run-down than Jenna remembers, but that's nothing compared to the ramshackle state of The Driftwood Inn. Aunt Edie is confident they can return it to its former glory, though Jenna feels like she's jumped from the proverbial frying pan into the beach fire.
But who knows? With the help of her new friends and a couple of handsome citizens, perhaps that rainbow is on the horizon after all. Because, no matter what, life is always good at the beach.
Featuring all the warmth, romance and trademark humor of Sheila Roberts's writing, this new series will delight longtime fans and welcome a generation of new readers.