Tempting the Dark by Michele Hauf: When they were nine and ten, Jett and Savin were transported to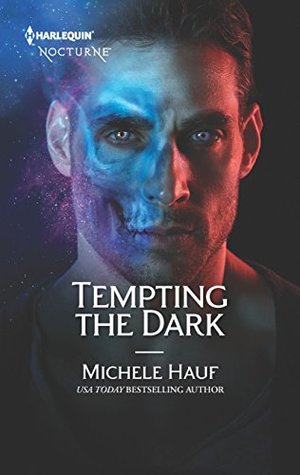 Daemonia. Jett was then sucked into a pit, while Savin managed to escape and find his way back to the regular dimension. His escape came with a price. A corporal spirt has inhabited him, and he's gained powers to become a reckoner–a person who can send demons back to Daemonia. Twenty years after the incident with Jett, a portal opens and hordes of demons spill out of Daemonia. Among those who came out is the one person he thought he'd never see again–Jett. Twenty years in Daemonia has changed Jett, and she has a secret of her own; there was a reason she was targeted that fateful day twenty years ago. When Savin finds out the truth, will he find it in his heart to help her, or will he be forced to reckoner her back to Daemonia?
Even as a child Savin had cared about Jett. He harbored a lot of guilt when he was able to escape Daemonia when she couldn't. Twenty years later, he has no problems trying to start up their friendship where they left off. Jett is more hesitant, especially when she learns he's become a reckoner. She wants to trust him, but she fears he won't accept who she's become.
I liked the pair together. Savin was protective of Jett. Even when it becomes clear that she may be part of the reason the portals keep opening and putting the human world in danger, he does his best to make sure she's safe. After all her time in Daemonia, Jett is unfamiliar with how the world has changed, but she instinctively knows she can trust Savin with most things–except for her secret.
I wasn't crazy about how Savin's mother treated Jett, though, and this was the one part I didn't care for Savin. Instead of asking Jett what happened, he automatically assumes the worst and takes his mother side. Considering how they were together most of the book, his reaction seemed out of character for him. I also found the situation with his mother to be unresolved. She made it clear that she didn't want Jett in his life despite Savin's feelings. I would have liked to have seen her reaction or at least have seen her and Jett come to some kind of understanding. Instead it's left wide open and it just didn't feel complete.
While this is not listed as part of a series, it is set in the author's Beautiful Creatures world. If you've read other books set in that world, some of the characters will be familiar to you, especially Certainly Jones (a dark witch) and Edamite Thrash (a demon), who both play a large part in this story. Don't worry if you haven't read their books though, as this can be read as a standalone. There aren't many references to things that happened in the other books, so you won't feel like you're missing anything if this is your first book by this author
Michele Hauf has created an interesting, unique paranormal world involving a variety of paranormal characters. It's an enjoyable read and I recommend it to anyone who enjoys the paranormal.

Book Info:

Publication: September 1, 2018 | Harlequin Nocturne |
His calling might be her destruction
When the door to Daemonia is opened, Savin Thorne is reunited with a childhood friend he thought he'd lost forever. After years of captivity, Jett has escaped—along with hordes of monsters streaming into the mortal realm. With Savin, she has her first experience of desire. But their passion can't save them. It might even be their undoing .