In Ten Rules for Faking It by Sophie Sullivan, Radio producer Everly Dean always cringes when she thinks of her birthday.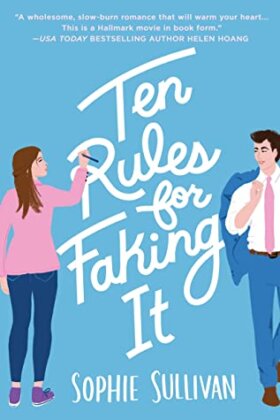 The day usually ends up in some type of fiasco–not of her own making–but thanks to either her parents or something else in the universe trying to make her anxiety levels soar. This year is Everly's thirtieth. Rather momentous on its own. Little did she know that before she even made it to the radio station that morning she would find her boyfriend and his assistant in the throes of passion. Thus ending their relationship for good. Obviously.
"I didn't mean to feel this way about you," he whispered, his face coming closer.
"What way?"
"Like if I don't kiss you, something inside of me might break."
Things take a further nose dive when Everly is accidentally caught on air spilling the deets to her best friend Stacey, a DJ at the station, about the nearly nausea-inducing event. But when listener response blows up their social media, their boss Chris decides to take advantage of it and have Everly star in their own version of The-Dating-Game-meets-The Bachelorette. Which makes her social anxiety take off into the stratosphere. She's not sure she can go through with it. Or hide her growing feelings for her sexy boss. But by making a list of rules to follow to get her life in order, Everly just might learn to be her best self–and find love–in the process.
'If she'd been anything other than who she was, if she'd taken a different path, she wouldn't be sitting here right now feeling like she finally belonged.'
A delightful romantic comedy that made my heart soar from page one, Ten Rules for Faking It was the feel-good type of story we all could use in our lives at the moment.
'Note to self: Boss is hotter when he's frazzled. P.S. on note to self: Do not notice things like your boss being hot.'
I immediately have to give huge kudos to Sophie Sullivan for the realistic way she showed our heroine Everly handling social anxiety in her daily life. *And* for even creating a character who battles anxiety where it's not something you would necessarily think of in a rom-com. It was all done of course with a light sense of humor, making Everly a relatable, enjoyable character to follow, even if you've never dealt with the same issues yourself. From someone who does face this every day, I have to say thank you to our author–for (hopefully) taking some of the stigma away, and for showing how a small group of supportive friends, like the ones Everly held dear, made such a tremendous difference in her world.
The premise of the story was a fun one. It was modern and gave Everly the chance to spread her wings as a person while going through with the Bachelorette-esque dates–even though it scared the daylights out of her. Her boss, our hero, Chris was a sweetheart of a guy. I loved that he gently pushed Everly to try, all while understanding her hang ups as well as trying to hold his feelings back…because he just wanted her happy. Whoever that was with and however that happened to work out for her.
Chris and Everly's relationship was a very slow burn. But I thought it evolved in a pretty real way and fit their personalities too. Sullivan wrote their romance with such a sweet and sensitive view–from the gentle brushes of their hands to the sparks of desire in their eyes and flirty moments that took them by surprise–Everly and Chris were simply sigh-worthy together in my eyes.
Ten Rules for Faking It might be Sophie Sullivan's first foray into rom-coms, but with her charming voice and storytelling ability, I have a feeling it won't be her last. My hope is that Everly's BFF Stacey will possibly get her own book at some point. Just throwing that out there… *winks*
Book Info:

Publication: December 29th 2020 | Pub: St. Martin's Griffin |
What happens when your love life becomes the talk of the town?
As birthdays go, this year's for radio producer Everly Dean hit rock-bottom.
Worse than the "tonsillectomy birthday." Worse than the birthday her parents decided to split (the first time). But catching your boyfriend cheating on you with his assistant?
Even clichés sting.
But this is Everly's year! She won't let her anxiety hold her back. She'll pitch her podcast idea to her boss.
There's just one problem.
Her boss, Chris, is very cute. (Of course). Also, he's extremely distant (which means he hates her, right? Or is that the anxiety talking)?
And, Stacey the DJ didn't mute the mic during Everly's rant about Simon the Snake (syn: Cheating Ex).
That's three problems.
Suddenly, people are lining up to date her, Bachelorette-style, fans are voting (Reminder: never leave house again), and her interest in Chris might be a two-way street. It's a lot for a woman who could gold medal in people-avoidance. She's going to have to fake it 'till she makes it to get through all of this.
Perhaps she'll make a list: The Ten Rules for Faking It.
Because sometimes making the rules can find you happiness when you least expect it.